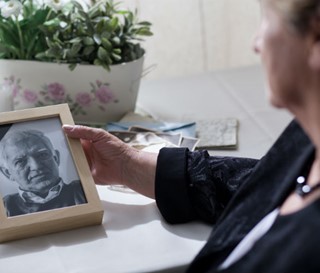 Healing

 from loss.

When a loved one dies, our lives are forever changed.  We may have difficulty imagining how we will go on. It is normal to feel anger, sadness, withdrawal, guilt and anxiety. This can be especially challenging for young people who are still maturing emotionally.

You don't need to face this transition alone. We offer bereavement counseling and support to spouses/partners, family members and close friends of a loved one cared for by Hospice of the Valley. Helping you heal afterwards is part of hospice care. We can be reached at (602) 530-6970.

New Song Center for Grieving Children, a program of Hospice of the Valley, offers up to 24 months of pediatric and family bereavement support for those grieving the death of a family member. We can be reached at (480)951-8985.

As a community service, Hospice of the Valley also provides group grief support at no charge. Groups are open to any adult grieving the loss of a loved one of any age or relationship. They are diverse and inclusive, multi-cultural and non-sectarian. You may attend group sessions at locations Valleywide or join one of our virtual groups.

Please note: if you are in an emergency situation, dial: 911
Adult Grief Support Groups (In-person and Virtual)
Help for adults experiencing grief from the loss of a loved one. No cost.

FAMILY GRIEF SUPPORT WITH NEW SONG CENTER
Tools to assist families with children who are grieving a death. No cost.
Grief Resources
Helpful resources for adults, families, teens and children in grief.
For crisis support, call:
Hospice of the Valley's bereavement program specializes in grief support. If you need a different kind of support, the resources below may be helpful: 
DON'T BE AFRAID TO ASK FOR HELP
Tom Brown
"When my wife Vicky passed away, I attended a grief support group and the experience has been of a benefit I cannot describe. I am touched by my counselor's sensitivity. A lot of things have been brought into focus and I feel much better about life ahead.  
Your organization does important work and does it well."
Roy Braunstein
Roy attended our grief support group after the death of his wife, and now comforts others. 
"I share experiences with them, teaching others not to be defined by grief, to stay strong. I know I have touched people. It gives my life a lot more meaning. If my wife were still here she would not at all be surprised at what I am doing."
Douglas Miller
"I am very grateful for the one-on-one counseling that has helped me work through grief and the issues surrounding losing a spouse. My counselor draws from a wealth of experience and knowledge and gives the right support."
"I don't believe I'd be doing as well as I am without all this gracious help from Hospice of the Valley."