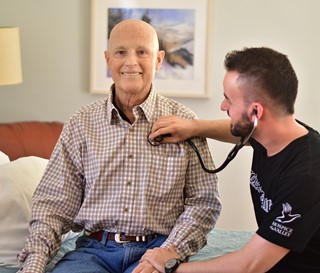 A
 

new

 

kind of care

Hospice of the Valley is the only hospice in Arizona chosen to participate in a national Medicare program called MediCaring. This in-home supportive care program is for individuals with late-stage chronic illness who wish to continue medical treatments and also have visits from a care team to help them manage their symptoms.

Our goal is to improve quality of life with an extra layer of support. We collaborate with community physicians to help patients and families achieve this goal.

Under current Medicare rules, patients must stop curative care with their primary care doctor and specialists to get hospice care. But MediCaring allows people to get both curative and hospice care, if they wish. The thought is that more will accept the comfort care hospice provides, if they don't have to give up their treatments.

MediCaring is designed to:
Educate and support people so they can manage their illness and symptoms in collaboration with their physicians and other providers.
Help people cope more effectively with illness and the lifestyle changes it brings
Encourage people to maximize their quality of life.
We offer education, support, advocacy and referrals to community resources.
The care team includes a registered nurse and social worker. In some situations, the core team may add the services of a physician or nurse practitioner, chaplain or volunteer.
If skilled nursing, home health, hospice, custodial or personal care are needed, we can help connect individuals and families with the appropriate provider or agency.
IT IS FOR PEOPLE WHO
Have advanced cancer, congestive heart failure, COPD, advanced renal disease or HIV/AIDS.
Wish to receive support while they continue their treatments of choice.
Live in all settings (including group home, assisted living facility or multi-level senior care campus).
MEDICARING SERVICES INCLUDE
Home visits from nurses, social workers and other team members
Case management from an RN care coordinator
24/7/365 access to clinical support
Person- and family-focused care
Assistance with goals of care review and advance care planning
Advice and education on symptom management
Available to patients in all settings, wherever they reside
Provided at no cost to participating patient or family
For more information or to enroll, call (602) 530-
6920

.

MediCaring® is a registered trademark of Joanne Lynn, and is being used under the permission of Joanne Lynn and Altarum Institute.
The Best of Both Worlds
"I enrolled because I thought it would improve service and it's kind of an experiment," says Bob Heck. "I've always been curious."