Supporting family caregivers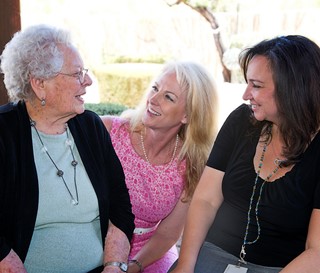 Lean on
us
If you're taking care of a loved one, you don't have to do it alone. We can help.
We are here to support your goals, carry out your wishes and lend a hand. Here's how our social workers, chaplains and volunteers support family caregivers.
SOCIAL WORKER
Helps with living wills and medical power of attorney forms.

Assists with health insurance issues.

Provides resources to support patient at home;

Helps if you transition to another living environment.  

Connects to community resources, such as food box deliveries.

Arranges respite care to give family caregivers a break.

Refers to our other programs, such as

11th Hour Companion

and

New Song Center for Grieving Children

.
CHAPLAIN
Our chaplains offer reassurance and listen to the caregiver's fears and worries—which are natural feelings during one of life's most difficult passages. Every patient's individual belief system is honored. Our chaplains simply give spiritual comfort in whichever way is most appreciated—singing, praying, or just listening.
VOLUNTEER
Hospice of the Valley trains community volunteers to support our patients and their caregivers. Volunteers may run errands for exhausted family members. They provide companionship, spending time with patients—talking, listening and offering emotional support—so family caregivers have time to attend to their own needs.
RESPITE FOR CAREGIVERS
There may be times when caregivers simply need a break. Just ask your Hospice of the Valley care team and we can assist.
Family caregivers tell their stories
Helen Vento
Hospice of the Valley was a Godsend for my mother, Helen Vento, at a time when she really needed a helping and caring hand. I called hospice when I realized Mom's health was rapidly declining and that she would no longer be able to take care of her basic needs. The time came that my wife and I flew out to be with her for two weeks. During those two weeks we observed Hospice of the Valley at work. Hospice was amazing, not to mention dedicated to Mom's well-being. They jumped right in to take care of her with everything she needed to make her days more comfortable until she passed on January 24th ... the day after we went home to Florida. We feel that she did not want us to see her at the end. I understand this is very common under these circumstances.
I cannot thank Hospice of the Valley enough for all they do for families in similar situations. They are truly special people!
—Bob Vento
Leclerc Stevens
My mom, Leclerc Stevens, passed away this past April, just days after her 96th birthday. She was fortunate enough to be under the care of nurse Linda Palumbo from Hospice of the Valley. We first met Linda at another hospice facility years ago when mom was very sick and they didn't think she would live. Thanks to the incredible care from Linda, mom lived another eight years. When she passed, she had been back on care from HOV for a few months and again was fortunate enough to work with Linda. Linda helped us all  transition — especially mom. There isn't a day I won't miss my mom but I do know that her final days, and every day that she was cared for by Linda, both times, was a gift. Linda's sincere loving care, amazing sense of humor and knowledge made a time that was very hard one we could handle. I will always be in her debt.
Thank you for the amazing job you do. The lives you touch go way past the patients.
—Nancy Rollins