College Student Opportunities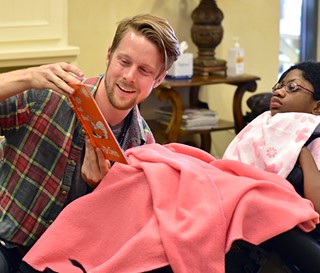 Honor an entire life
while changing your community
Hospice of the Valley provides opportunities for college students to earn direct patient experience, while patients and their families gain a steadfast companion. Students are placed in a volunteer role suited to their availability and interests. In addition to training, students benefit from ongoing mentorship by their Volunteer Coordinator, who is invested in the student's learning. Students most commonly serve as volunteers in the following roles:
Patient Companion – Students provide individualized support to patients and families through one-on-one assignments. On weekly visits, students enhance a patient's sense of connection and dignity through meaningful activities, or offer peace of mind to a caregiver wishing to leave the home to attend to their own self-care.
Inpatient Care Home – Students support paid staff during a weekly shift at a Hospice of the Valley inpatient unit. This position affords students the opportunity to gain experience in a clinical environment while assisting with administrative and patient care tasks that allow nurses, nursing assistants and social workers to deliver individualized clinical care to patients.
Dementia Care and Education Campus – Students provide individualized support through the Supportive Care for Dementia Program with patients in Assisted Living or the Adult Day Center, providing four hours of support weekly with activities, companionship, and socialization.
Hospice of the Valley also sponsors student-led clubs and initiatives, including:
ASU Ryan House Club

ASU Music Meets Medicine Club
UA College of Medicine Community Health Initiative – Phoenix (CHIP)
If you are a college student interested in learning more about partnering with Hospice of the Valley, please contact Holly Cottor at hcottor@hov.org.
What's in it for you?
Gain direct experience interacting with patients.
Enrich classroom learning with personal experience.
Enhance your interpersonal sensitivity and communication skills.
Learn more about yourself and the human experience.
Receive support from a Volunteer Coordinator and professional members of the hospice team.
Apply volunteer hours toward

s

 postsecondary school applications, scholarships and résumé.
Feel more connected to your local community through active service.
College volunteers are…
18 years or older.
Enrolled in full-time or part-time study.
Undergraduate, graduate and medical students.
In-state students or out-of-state students who return to Maricopa County during summer.
Represented in health and social science programs, such as biology, medical studies, biomedical engineering, nursing, social work, psychology and public health, among others.
Motivated to provide compassionate service.
What's required to become a volunteer?
Students must complete an electronic volunteer application and an in-person interview.
Condensed college orientations are offered throughout the year to accommodate the busy lives of students.
College Volunteer Testimonials
Dustin, ASU Ryan House Club
Volunteering has been an excellent way for me to contribute to my community and has allowed me to connect with individuals from all walks of life. My time spent here has been rich, meaningful, and fulfilling. I love being a part of such a wonderful organization, and I cherish the friendships I have made over the years. 
It has been an honor to support these families during some of the most critical moments of their lives. I feel as if I've grown immensely as an individual, and I look forward to continuing volunteering with this wonderful group of people.
I was nervous when I first began volunteering, but that quickly dissipated when I met the wonderful patients, families and staff. I love that each visit is unique and provides an opportunity to make a difference in a patient's life. 
Kalista, Patient Companion
My experience with Hospice of the Valley has been enlightening. I see that patients still have a light in them and want to participate with others. The most significant part has been listening to their stories and seeing them for who they truly are. Even as a young person, I have learned that I can provide this interaction. At the end of the day, I don't need to do much; I just need to be a presence.
As a social work student, volunteering has given me a leap start and broadened my horizons to see the different populations I can work with. Volunteering with hospice patients has made me more aware of myself and others.