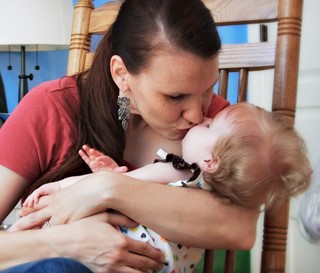 Caring for precious
children

.

Hospice of the Valley offers the only perinatal, pediatric hospice and palliative care program in Arizona. We also provide no-cost respite for families with medically fragile children at Ryan House.

We support families from the time of their child's life-limiting diagnosis, through treatment, end of life and up to 24 months of bereavement. Our services include:
Counseling support for children, youth and families living with a child with complex medical conditions or grieving the death of a child.
Quarterly workshops for siblings living with a brother or sister with a serious medical condition.
Supportive and educational programming for grieving families with children.
Enduring Ties bereavement support, designed for families whose child has died and for adults grieving the death of an only child.
Our innovative Perinatal Support Program was created to help an expectant mother who came to us, after being told her baby would not survive birth. Today, we support families across the Valley, providing kindness, understanding and  compassionate care.
Parents with empty arms
Shortly after their honeymoon, Sam and Jolie were thrilled to learn they were expecting a baby. They were devastated when doctors told them—their little girl would not survive outside the womb. This is their story... as they share "106 minutes of blessings" with their daughter.
Offering support along the way
Perinatal
Pre-birth and beyond

Pre-birth counseling

Support at birth and after
Outreach
Serious illness

Home visits from social worker

Resource referrals
Hospice
Home visits from hospice team

Respite care for family

Inpatient care at Ryan House.
Ryan House:
open doors, open hearts.
Hospice of the Valley partners with Ryan House to give families short breaks from the continuous strain of round-the-clock care giving. Nursing staff give 24/7 care while parents and siblings stay in a nearby suite—or if they wish, take a vacation or simply go home. It is located in midtown Phoenix on the campus of St. Joseph's Hospital and Medical Center. 
Families love Ryan House
A beautiful place for families with medically-fragile children. A place where kids can be kids and enjoy lots of fun activities, compassionate care and plenty of laughter... and parents can rest easy, knowing their precious children will be surrounded by love.
Ryan House also provides hospice care to children on the first floor of the facility—hospice care for adults on the second floor. It is supported by private and nonprofit community organizations, including Hospice of the Valley.
For more information call (602) 234-6750.