Making
moments

 matter.

Dementia is now the fourth-leading cause of death in Arizona. There has never been a more critical time to expand services to care for patients at all stages of the disease and support stressed family caregivers.

Hospice of the Valley helps improve quality of life for people with all stages of Alzheimer's disease or other dementias—from those who are just starting to show signs—to those who are quite advanced and nearing the end of their lives.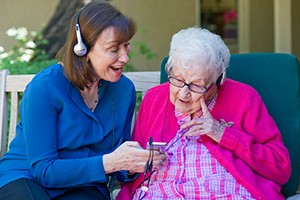 Our Dementia Programs are directed by Maribeth Gallagher, a psychiatric nurse practitioner with a doctoral degree in nursing practice who has won national and international awards.
Maribeth is a featured speaker at professional conferences and a Fellow in the American Academy of Nursing. She's also been a family caregiver herself.
Reach the Dementia Program office at (602) 636-6363.
Your Home or Gardiner Home
We primarily provide comfort and dignity to dementia patients in their homes. But patients needing round-the-clock care can stay at Gardiner Home, the Valley's only inpatient home that specializes in caring for people with dementia. It is staffed with loving caregivers and volunteers, who have special training in dementia care.
Dementia Care and Education Campus
The innovative Dementia Care and Education Campus, set to open mid 2021, will support patients, their caregivers, healthcare providers and our community. It will care for people at all stages of dementia and also will feature an intergenerational adult and child care center and an education venue that brings people together to share best practices in dementia care.
QUIET MOMENTS PROGRAM
Every dementia patient is unique and finding out what will most enrich each individual—is what our Quiet Moments program is all about. Our goal is to find the key that will unlock someone's mind and heart—and usher in a little warmth, light and happiness.
Our Dementia Care Programs
Palliative Care for Dementia
This program is a national model—one of the first programs of its kind in the country, and the only in-home medical and emotional dementia care program in Arizona.
Families stay on the program as long as needed to get support and learn to care for a loved one with dementia.
Dementia Hospice Care
Late-stage dementia patients cannot communicate with words, but our staff knows how to meet their needs. We customize our care to the person's lifelong preferences, using sensory activities to stimulate and calm.
We manage pain and depression. Family caregivers are supported by our compassionate team of specialists—doctor, nurse practitioner, nurse, nurse's aide, social worker, chaplain and volunteer. Medicare covers the cost of dementia hospice care.
Schedule an educational presentation or request online webinars for your group or company.
Free mindfulness meditation for family caregivers taught by our award-winning dementia team.
See Schedule