Dementia Care and Education Campus
Live well

 with dementia
Hospice of the Valley is building a Dementia Care and Education Campus that will care for people living with all types and all stages of dementia. Located in central Phoenix at 44th Street and Indianola Avenue, this innovative resource provides full-spectrum care and support for family members. In addition to an Assisted Living Center and Inpatient Care Home, it will also feature an inter-generational Adult Center that promotes interaction with preschoolers in the adjacent Child Center. The cornerstone of the campus is the Community Education Center that brings together healthcare professionals—physicians, nurses, social workers, physical and occupational therapists, as well as professional and family caregivers to share best practices. The center will also help train a dementia care workforce for the future.
Take a tour of our Dementia Care & Education Campus
Our comprehensive, multi-purpose dementia campus will support patients, their caregivers, healthcare providers, students, volunteers, neighbors and the community. As one of the top ten states with elderly populations, Arizona's fourth leading cause of death is Alzheimer's disease. By 2025, more than 200,000 Arizonans will have Alzheimer's disease—increasing by more than half from today.

As the incidence of dementia grows, so has the need for expanded services to care for patients at all stages of the disease and to help family caregivers relieve stress. The innovative Dementia Care and Education Campus is a natural extension of Hospice of the Valley's internationally recognized educational and professional development programs aimed at enhancing quality of life for those living with dementia and sharing knowledge with those interested in careers involving dementia care.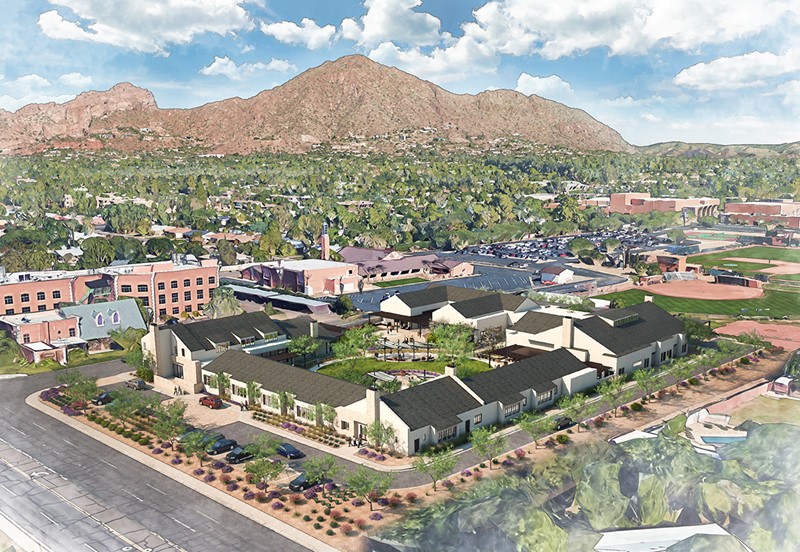 The campus will include:
A 10-bed dementia Inpatient Care Home for people with advanced disease on hospice.
A 12-bed Assisted Living Home for people with mild, moderate or advanced dementia, many with behavioral issues, who may or may not be on hospice.
An Adult Center to engage people living with dementia in stimulating and joyful activity.
A Child Center for preschoolers to provide inter-generational enrichment.
An Education Center with a conference room for up to 100 guests and a café for community and campus visitors. The center also will include a model patient room to teach care.
The campus is located at 3811 N. 44th St. in Phoenix, which was the former site of the Scottsdale Unified School District office.
Groundbreaking on this innovative campus took place in January, with the Grand Opening estimated for mid 2021.
For more information, please call (602) 636-6363 or email DementiaCampus@hov.org.