MediCaring patient gets best of both worlds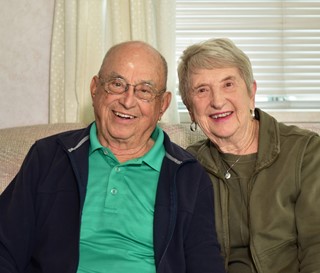 Bob Heck sees no contradiction in pursuing treatment for incurable cancer, wearing a "do-not-resuscitate" bracelet and getting hospice care. "I want to go on a little bit longer," he said.
But if he has a heart attack, stroke or some other catastrophic medical event, he does not want to be kept alive if there is little quality of life.
Bob—a winter visitor from Wisconsin—lives with his partner Barbara McDermid in a Mesa mobile home park. In December, he was diagnosed with advanced liver cancer and lymphoma. His symptoms rapidly worsened. He started chemotherapy in January and within weeks was feeling practically normal. He also joined Hospice of the Valley's MediCaring program, which provides home-based supportive care to Medicare patients getting treatment.
Barbara is reassured knowing she can call Hospice of the Valley for help 24/7. "The anxiety was taken away," she said. "It's a relief."
In February, Bob celebrated his 94th birthday with 35 family members and friends.
"I like the feeling of not being alone," Bob said. "I feel confident that you'll be there when we need you."