Internship introduces ASU students to hospice and palliative care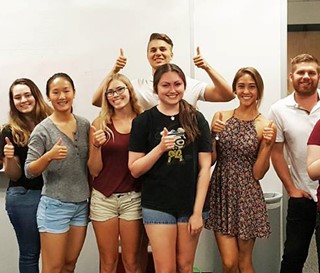 ASU Students at Hospice of the Valley
ASU Now
August 24, 2018
Arizona State University is helping to educate the next generation of hospice, palliative and dementia care professionals through a unique internship experience at Hospice of the Valley. As Arizona's largest hospice — and the second largest in the United States — Hospice of the Valley serves more than 10,000 patients each year. This partnership with Hospice of the Valley creates opportunities for students to serve their community through volunteer work. Students also have the option to take courses on dementia and Alzheimer's disease.
Gillian Hamilton is the administrative medical director for Hospice of the Valley (HOV) in Phoenix and serves as a new faculty member within the College of Health Solutions.
"Through this internship, students will gain a thorough understanding of hospice care, and of the role and challenges for physicians and other professionals in this field. If they choose to enter the health care professions, this experience will be invaluable for their understanding of life as it nears its end. The mission statement of HOV is to bring comfort and dignity as life nears its end, and we hope students will have many opportunities to see this happen," Hamilton said.
The internship allows students to observe palliative and hospice patient care. Students also get exposure to units specializing in dementia and pediatrics. Most students spend four hours a week in a hospice inpatient unit shadowing healthcare providers and another four hours doing home visits. Students will observe patients with varying acute symptoms such as pain, nausea, and agitation and shadow nurses, social workers, chaplains and medical directors.
Israel Zaldivar, a medical microbiology major, spent time with patients at the Gardiner Home and Friendship Village. Both are inpatient units within Hospice of the Valley.
"At Gardiner Home, I was involved with caretaking and helping the team provide for patients," Zaldivar said. "My time at Friendship Village gave me the chance to learn from a professional by observing their practice and their interactions with patients. I also evaluated pre- and post-characteristics of Alzheimer's patients. There is a growing presence of Alzheimer's, so the course was important for providing an introduction to issues that may arise later in medical practice."
The more rigorous academic activities of the internship educate students about the clinical issues facing palliative care and fosters thinking for solutions to address these issues in their future careers.
"Finances are one issue. We are very fortunate in the U.S. to have the Medicare hospice benefit, however, the internship also addresses those without insurance — HOV cares for patients regardless of ability to pay," Hamilton said.
Students will also learn how Hospice of the Valley handles patients who choose to stop life-sustaining and expensive measures (e.g. chemotherapy), the challenges in having no approved medications for behavioral issues, and the many ethical concerns that arise in palliative care such as honoring patient autonomy in decisions for end of life care. Students review charts and partake in research projects for ethics and issues facing international palliative care.
Kegan DeBacker, a recent ASU graduate, completed his internship this past spring.
"This internship allowed me to see the health care system in action — particularly how the hospice is compensated for their services and how funding is supplied to the unit," Debacker said.
Students also provide an additional support system for patients and families and develop close relationships with their patients. They visit, walk with patients and participate in special projects such as writing poetry or creating life story books.
"While the internship is an incredible experience, people who are not accustomed to seeing any end of life care may need some time to get used to it. The surprising things I have seen would be patients who are admitted to hospice care relatively young or who have struggled with drug addiction or debilitating lifelong illness," Debacker said.
Debacker pursued the internship to learn about the care process for dementia patients and how to support their families. His wish is to enter medical school to specialize in neurology.
"I will reflect on this internship when I apply to medical school," he said. "Spending time with someone with dementia gives you an opportunity to learn an incredible amount of information. In a majority of cases, someone with a major illness will teach you things that not even a specialist can teach you. The experience is a somber reminder how fleeting life can be, and how important it is to spend it how you want, while you can."
The internship course is open to upperclassmen in any major across ASU. Students will need to submit an application for interest. To learn more about the application process, visit the Pre-Health Internship Program site or email phip@asu.edu for more information.
ASU Course Changes Lives of Students and Families Living with Dementia