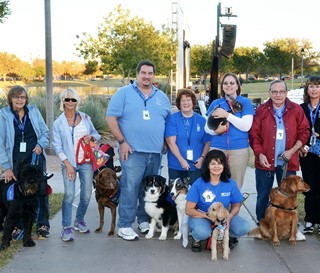 Our Pet Connections Teams
Koko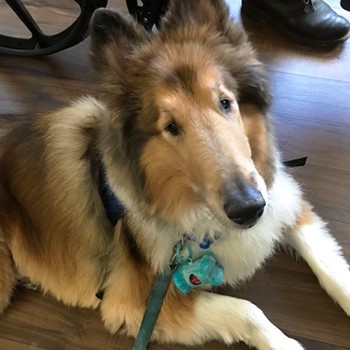 Breed:
Rough Collie
My Human Partner:
Beth Tokowitz
I've been an HOV volunteer since:
July 2015
My interests, hobbies & talents:
I love to receive tummy rubs and to have my hips and ears scratched! When you hit the right spot, you'll hear my "happy growls." I also love to go for walks and come home to chew on my rawhide bones. Of course, I love going for rides in the car. I don't do a lot of tricks, but there's one that I am really good at performing: since my bark is very loud, I have learned to use an "inside voice" when my mom and I are out visiting patients. That's important because I don't want to scare anyone.
Why I enjoy our work at HOV:
I learned all I know about how to be a great therapy dog from my mom and my big brother, Joe. I love being a therapy dog! Besides having one-on-one time with my mom, I get lots of attention and love from all of the people at the senior center we visit every week. I look forward to seeing all of my adopted friends because it makes me happy to make them happy. When my therapy vest comes out, I get so excited because I know it is visit day! Volunteering is the highlight of my week!
Leonard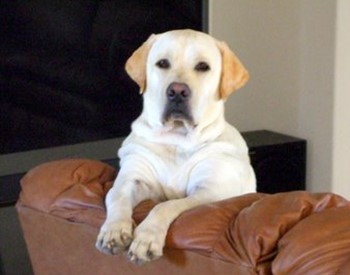 My Breed: 
Yellow Labrador Retriever
My Human Partner: 
Gary Artley
I've been an HOV Volunteer since: 
2007
My interests, hobbies and talents: 
Plain and simple, I just love visiting people, period! (Secretly I do love my dad best though.) When I'm not busy going around town working, I chew on my many, many toys. I'm old school however, so no squeaker toys for me, please. I pride myself at making all of my toys last forever; some are many years old.
My work at HOV: 
I visit patients, families, staff, and anyone who might want to pet me. I like to go anywhere to do my job—to homes, palliative care units and skilled nursing facilities.
Hercules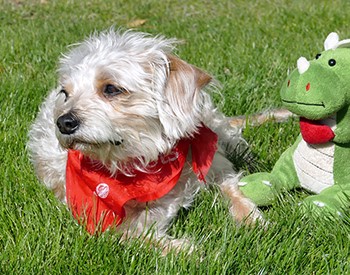 My Breed:
Terrier Mix
My Human Partner: 
Elizabeth Bayramoglu
I've been an HOV Volunteer since: 
2017
My interests, hobbies and talents:
My mom took me to my "fur-ever" home when I was three months old and I have been pampered ever since. It's the best. I get to take naps every afternoon; walks every day in the beautiful Arizona weather; trips in the car; and wrestle, jump and play with my human brother, which makes him laugh a lot! And, if I'm lucky, I even get a special small burger patty treat just for me at pet-friendly restaurants.

Mom also made me work hard at obedience school where I learned good manners and became a therapy dog volunteer. She even took me to agility classes which were the best—my very favorite!

My work at HOV: 
My special talent is making people smile. They tell me what a cute dog I am which makes me very happy. My HOV work is visiting patients who need cheering up, wherever they live, including private homes and group homes. I sit by their side or on their laps and let them pet me. People say I'm very soft and cuddly. They like that (and me too). I look forward to the visits every week, not to mention getting my favorite treats!
Charlie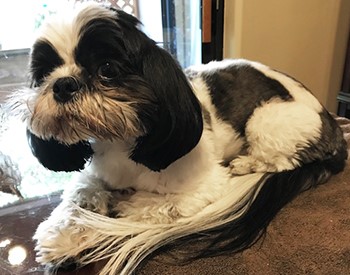 My Breed:
Shih Tzu

My Human Partner:
Rich Hunsinger

I've been an HOV Volunteer since:
2016

My interests, hobbies and talents:
I began taking obedience classes when I was 5 months old, which has made me a nice doggie that can make people happy. I am now 3 years old and am very proud to be credentialed by the Alliance of Therapy Dogs. My dad says that I am the essential member of our special HOV Pet Team. (What he doesn't know if that I can't get there without him.) Together my dad I do a lot of things, some of which he said he couldn't do without me. I like to run with my canine sister Emily, sit on the desk, eat treats and play with my green toy.

My work at HOV:
I'm a very lucky dog. I get to go to three different facilities for HOV each week. I meet wonderful people. Some of the people don't seem to feel so well until they see me. Others work there or are visiting their friends or family. All of them are very kind and pet me. What a great job this is!
Ash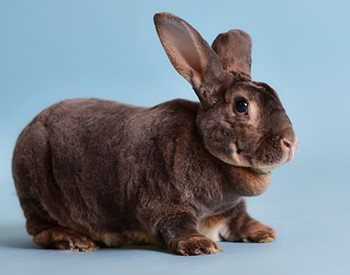 My Breed:
Standard Rex
My Human Partner: 
Beth Ivins

I've been an HOV Volunteer since: 
September 2015

My interests, hobbies and talents: 
My name is Ash Ivins and I'm about six years old. I have really soft fur and an extremely sweet disposition. I am nicknamed a "velveteen rabbit" because my fur feels like velvet. I love running around my handler's living room, especially when I can chase Sam (a dog). I also like playing with Smudge the kitten. He likes to give me hugs. I love playing outside in the grass when it's cooler and where my mom, Beth, can watch over me. I love carrots and lettuce which I get every day. I'm trying to watch my weight so I'm keeping to my rabbit diet and exercising regularly!

I visit the Arizona State Fair and Maricopa County Fair each year where I've been interviewed on the local news.

My work at HOV:
My mom says I make her happy when I just sit by her and let her pet me. Little does she know it makes me happy as well. In fact, I love meeting new people and snuggling with everyone. And that's how I became a therapy rabbit. I really enjoy visiting HOV patients and staff because making people happy and bringing smiles makes me happy and smile as well.
Betty Boop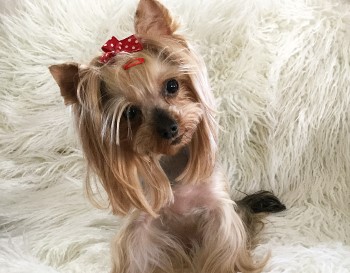 My Breed:
Yorkshire Terrier
My Human Partner:
Lynn Swartz
I've been an HOV Volunteer since:
2014
My interests, hobbies and talents: 
I was born in England. When I was just a baby my human mommy and daddy went to England and brought me to the United States. It was difficult for me at first because I did not understand the language. Mommy quickly put me in school. I did so well that I soon became an official therapy dog. I have three brothers and three sisters at home, but I must say I have the best outfits in the family (and boy do I love to dress up, complete with matching bows, barrettes, collars and leashes, of course).
My work at HOV: 
I really like working with the kiddos at the Ryan House and at Hospice of the Valley's New Song Center for Grieving Children. The children dress me up, comb my hair and take me for walks (with my mommy right alongside of course!). I am very good at helping the children feel better when they are not feeling well or are missing their human.
My favorite thing to do is lie on my back in bed and watch TV with the kiddos. I love when they rub my belly and give me treats. Sometimes I even fall asleep. Hee hee. I love to give kisses and I love to work at Hospice of the Valley!
Buddy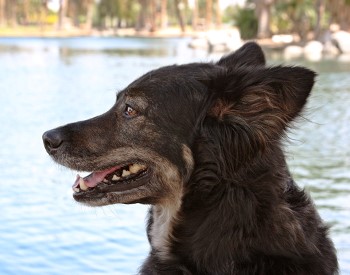 My Breed:
An international mix: German Shephard, Australian Shephard and Border Collie.
My Human Partner: 
Pat Estok
I've been an HOV Volunteer since: 
2012
My interests, hobbies and talents: 
I was about 5 years old when—from all the people trying to corral me—I chose Pat to take me in from the street. She said I was someone's buddy and that's how my name was chosen. I was skinny and limping but a gentle soul who immediately made friends with all the neighbors and their pets. After a few weeks of winning everyone over, my training began as a therapy dog. I was so proud to become officially registered, but then Mom had to be trained—that took a few more months! Everywhere I visit, I enjoy seeing delight on people's faces. The patients miss their pets so much so I get lots of cuddles and hugs. My favorite time is in the morning when my humans are still in bed. I bring them a ball or my Kong and we play hide and seek, tug of war and other fun games. My other favorite thing is to play with my friends in the courtyard and chase the rabbits. Those guys are fast and sure give me a great workout!
My work at HOV: 
When I first started my training, our instructor said, "Every dog needs a job." I'm happy that Mom chose Hospice of the Valley. When she gets out my "work" bag I tear through the house and then wait patiently for my seat belt to be put on. I know I'm going to visit HOV and other friends at my skilled nursing facility again. I always feel everyone's love flow through me as they give me hugs, rub my silky coat and massage my ears. We've been visiting the facility weekly for more than five years and everyone greets me by name. I feel so special! Even residents who have limited mobility/senses love to have me gently snuggle beside them in their lounge chair or bed. I'm so glad Mom took our instructor seriously and "got me a job," especially with HOV!
Roger
My Breed: 
Domestic Short Hair
My Human Partner: 
Tracy Howell

I've been an HOV Volunteer since: 
2016
My interests, hobbies and talents: 
When I am not working for Hospice of the Valley, I enjoy hanging out at home with my cat brothers, watching TV, connecting with other gray and white cats on Instagram, and going around town with my human Mom on her errands. I like to walk on my leash and my big dream is to be able to hunt a bird! So far I have only caught bugs. I would say my biggest talent is making people's day. Many times people say encountering me is the best part of their day and I really love that. Some of my other talents are doing tricks (like "high five") and getting into trouble but acting like I am up to nothing. I also happen to think I'm a dog and am happy to hang out with as many dogs as you'd like.
My work at HOV: 
My human Mom and I visit patients all over for Hospice of the Valley. I like going places in the car and meeting new people so this is great for me! The best part is being the center of attention and making people smile. People can get so excited to see a cat since therapy cats are not as common as therapy dogs. We have heard several times that patients who don't talk much in general talk to us. I like to think that the excitement of having me around gives them that extra push and I like that.
Daphne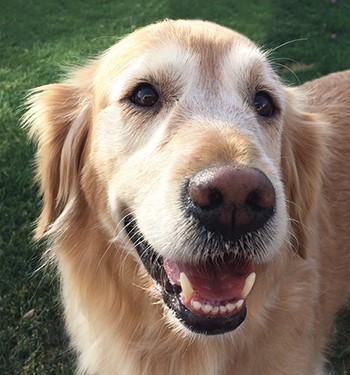 My Breed:
Golden Retriever
My Human Partner:
Denise Lockhart
I've been an HOV Volunteer since: 
April 2015
My interests, hobbies and talents: 
I've been with my human mom since I was a tiny pup. I am now 7 years old. My greatest talent is sharing my love with all the people I meet. I am so grateful to bring joy to others. I also enjoy going on trips around Arizona—not the driving part, but getting there and running and playing outdoors. I love to swim, too!
My work at HOV: 
My mom and I visit the Lund Home on Fridays, sharing as much love and warmth as possible. Going to visit patients, their families and the staff makes me feel that we are doing what we were meant to do. If we can bring a smile, we're happy to brighten someone's day. I am grateful to be able to volunteer for Hospice of the Valley.
Molly
My Breed:
Golden Retriever
My Human Partner:
Frank Turco
I've been an HOV Volunteer since:
2011
My interests, hobbies and talents:
I was born in Oklahoma in 2009 at a puppy mill and bred to become a "mom." The owners kept me in a cage and seldom allowed me to run free and play with other dogs. Fortunately, when I was eight months old, the business closed and Arizona Golden Rescue took me to Phoenix. A month later, my new owners took me to my forever home. After a while, they decided to put me to work — this time as a therapy dog. Because of my puppy mill memories, I was a bit worried about working. But as it turned out, being a therapy dog isn't really work after all. All I need to do is let people fuss over me, pet me, hug me and say nice things about me. What's not to love about that?
My work at HOV:
You should see how excited I get when my dad brings out my doggie work bag and puts my HOV vest on me. I beat him to the car every time. My dad and I work every week, visiting patients at a group home and at a skilled nursing facility where we have made many special friends and have a great time. We roam the halls and see lots of different people, many of whom ask us to come into their rooms. Whenever I see someone in a wheelchair no matter where we are, I pull my dad over to them so I can tell them "hello." These people usually give me a few pets and a hug, too. In addition to my regular stops, I am very lucky because we regularly take part in many other HOV activities, including new volunteer orientation, community events and employee wellness visits. I was even featured one time in a Hospice of the Valley calendar. I'm so glad I ended up in my forever home, doing this wonderful work.
Duncan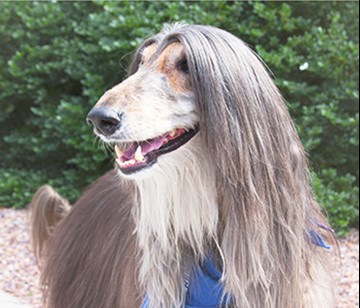 My Breed:
Afghan Hound
My Human Partners:
John and Pam Hickey
I've been an HOV Volunteer since: 
2015
My interests, hobbies and talents: 
Duncan was born in Phoenix in 2010 among a litter of twelve. Although he was bred to be a show dog, he was disqualified for congenital issues. Thankfully his human parents had no desire to show him anyway. Instead they intended to train him to be a therapy dog when they adopted him as a young puppy. Duncan was a born natural at his therapy work and required less training than his humans!
Duncan gets brushed every day and a shower once a week, complete with conditioning and combing of his long, lovely locks. He goes for long walks each day with his human Dad and big adopted sister (Yana Rose, another blue brindle Afghan Hound whom he loves very much). Weighing 61 pounds, Duncan thinks of himself as a "little" dog and likes other little dogs. His favorite pastimes are keeping the sofa or bed warm and hanging out with his Dad. No day is complete without his regular, passionate patrols of the backyard for cats. He loves to go for car rides, the longer the better.
My work at HOV: 
Duncan has been a therapy dog since he was one year old. As an Afghan Hound, he is the perfect height to lay his head in a patient's lap or bedside for a gentle pat on his head and rub behind his ear. If offered a treat by a patient, he gently takes it from their delicate hands, as if he understands how fragile they are. He is very sensitive and actually cried with a grieving family. Duncan has a diverse resume with HOV, including Ryan House, skilled nursing facilities, memory units, private homes and employee wellness visits at several HOV locations. He knows he is going to work when his Dad puts his HOV scarf on him.
Spencer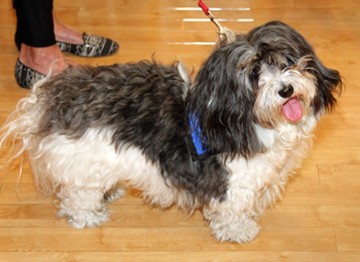 Therapist Name:
Spencer Retchin

My Breed:
Havanese

My Human Partner:
Betsy Retchin

I've been an HOV Volunteer since:
2014

My interests, hobbies and talents:
I am a professional dancer (for treats of course!) and am willing to give lessons for free. I love to watch all the beautiful birds that fly into our yard. My favorite hobby is visiting patients.

My work at HOV:
I visit patients weekly at Hospice of the Valley's Gardiner Home and at group homes where people who love little dogs live. I like to sit next to them or on their laps, which is great since I get to look at them and they get to pet me. I also meet and greet visitors who happen my way while I'm out on my visits. Sometimes I'm lucky enough to say hi to the community people who come to our Hospice of the Valley events. I just love all the attention! Last but not least, since I'm also good with kids, I visit our New Song Center for Grieving Children.
Frango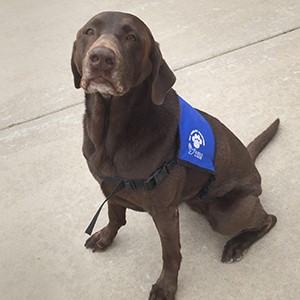 My Breed:
Chocolate Labrador

My Human Partner:
Ilyse Stern

I've been an HOV Volunteer since:
2015

My interests, hobbies and talents:
My mom and I are involved in showing off our skills in two venues involving agility. One is the American Kennel Club agility competition. Agility is an athletic event that requires conditioning, training and teamwork. Teams must negotiate an obstacle course while racing against the clock! I started 2.5 years ago and this year received a championship versatility award. I am now in all elite classes and working toward the highest level. Last summer we even traveled to Yellowstone and Utah for agility. Life doesn't get much better than that! I also got to try dock diving this summer which was tons of fun. Earlier this year my mom said I had to help raise a service dog puppy. I wasn't thrilled but she's really kind of cool. I hope she gets to stay forever, but mom says she is gonna go help someone special soon.

My work at HOV:
I used to spend hours trying to help my sick human grandparents smile and feel better. My mom recognized my special talent so she made it official and we became a Pet Connections team for Hospice of the Valley. We wanted to help others. We started out going to a few small group homes and then to see a great lady in her own home. Then we found a wonderful skilled/assisted nursing facility. We go every week to see our friends. Usually they are waiting for us… some even have little parties for me and I get special treats. I am a good girl and everyone there seems to like me a lot. I really love going and can't wait to run in to see all my favorite patients and staff!
Shanti & Gretchen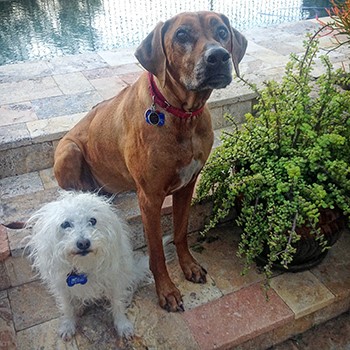 Breeds:
Rhodesian Ridgeback and Terrier Mix

Our Human Partner:
Kathy Krishnan

I've been an HOV volunteer since:
2012 and 2016, respectively

Our interests, hobbies & talents:
Shanti and Gretchen love to hike with their mom and dad, but Gretchen makes fun of Shanti because she doesn't like to get her feet wet and she's so slow on the trails! Shanti says she's all about taking in the scenery! Shanti and Gretchen both have a lot of commands and tricks they use to bring smiles to the HOV patients they visit.

Why we enjoy our work at HOV:
Because Shanti is a big girl and Gretchen is little, they visit with patients and families in different ways. Shanti is sometimes mistaken for a boy since she's so big, so on her visits, she wears her pearl necklace so people know she's a girly girl! To show off her skills, she carries a basket with all her commands inside and allows patients to pick one from the basket to perform. She's a bit of a show off!

According to her mom, Gretchen can be a bit of a wild child at home, but when she puts her HOV vest on, she's all business. Gretchen loves cuddling up next to her patients, either in their lap, on a bed or right next to them on a chair. One of her favorite facility rooms to visit is the beauty shop where all the ladies laugh at her wild hairdo!

Both girls love visiting their friends in group homes and skilled nursing facilities and hope that they provide some joy to others.
Caesar & Rufus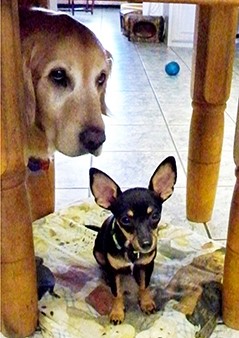 Our Breeds:
Golden Retriever and Chihuahua/Rat Terrier Mix
Our Human Partner:
Karen Davis
We've been an HOV Volunteer since:
2009 and 2013 respectively
Our interests, hobbies and talents:
Caesar: I like to eat everything, even though my Mom doesn't let me eat everything I want. I also like playing with my sister, snoozing in my dog beds,and short walks up the street.
Rufus: I may be little but I also love to eat! I prefer snuggling in the fur of my Golden brother and sister over dog beds any day. I like to run real fast in the yard and play. Short walks are the best, but since I don't like the cold, I prefer to walk only when it is warm out. I don't know how I got here to my home, but when I was a puppy I found myself in my Mom and Dad's garage. My Mom tried hard to find my people, but no one came for me. That was OK because I knew I had already found my forever home.
Our work at HOV:
Caesar: My first HOV patient was my favorite one ever. We visited her every week for a very long time. She kept treats just for me in her drawer and I knew exactly which drawer too. I love wearing my vest and going to the Palliative Care Unit or group homes.
Rufus: I started in 2013. I like all kinds of people. I can relax and sleep a lot at home, but when I am out I get so excited. I can calm down and get petted, which is lots of fun. I love wearing my vest since I know that means I am off to work.