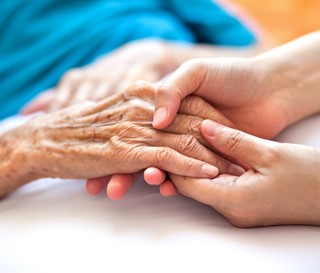 You're not 
alone.
Sometimes families want extra support when the end is near. Or perhaps family members are not able to be at the bedside. Hospice of the Valley provides special training to volunteers who offer the gift of presence. We call them 11th Hour Companions.
THE GIFT OF PRESENCE
The program was inspired by a patient's wife who did not want to be by herself when her husband died. Her need for a compassionate presence made us realize that patients without family nearby might be comforted by a volunteer, specially trained to vigil at the bedside.
About 1 in 10 of our volunteers serve as 11th Hour companions. They describe it as a very meaningful experience that they know makes a difference. "I have found that watching the experience of death is not a frightening thing but rather reassuring because usually—when I've been present—people have passed very peacefully," said volunteer Walt Blackledge.
ONE PATIENT'S STORY
Tina Van Sky will never forget the support she received from an 11th Hour companion volunteer during the two weeks her father was on hospice. "I couldn't have stayed 24 hours a day, there's just no way," she said. "To know the volunteer was there and Dad knew someone was there—was such a comfort."
Apply now to join our amazing family of volunteers or call (602) 636-6336.