With Hospice of the Valley support, 'I can be a mom and not a caregiver'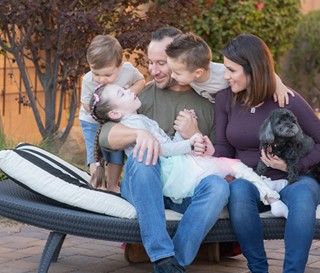 Reesa Stutzman with her parents and siblings.
Hospice Heroes News
November 12, 2019
by Lin Sue Cooney
Fear, guilt and loneliness consumed Jamie Stutzman and Kathleen Muldoon, two working moms whose children require round-the-clock medical care.
Jamie's 8-year-old daughter, Reesa, was born with a rare and acute neurological condition that damages the nervous system, causing stunted development, hearing loss, fevers and many other challenges. There's no cure for Krabbe disease and treatment consists mostly of managing Reesa's symptoms.
Kathleen's son, Gideon Dobson, who just turned 6, was born with severe brain damage, cerebral palsy and other debilitating conditions. Tests confirmed Gideon was infected with CMV (cytomegalovirus) when Kathleen was pregnant.
Both families credit Hospice of the Valley's Pediatric Palliative Home Care program with giving them hope, strength and a sense of community to overcome the physical, emotional and social struggles of raising medically fragile children.
"As a mom, my biggest fear is that something would happen to Reesa when I'm alone with her. And that's a scary thought. Because you think, 'Is it going to be my fault? Did I not do something right?' With Hospice of the Valley, I have 24-hour support," Jamie says. "If Reesa is sick or acting a way that I know isn't her normal, I can call and a nurse can come over to my house. I don't need to put Reesa in a car and take her to the hospital or the pediatrician's office. It's all done here. Even her prescriptions are brought to our home."
Equally important, the Scottsdale mother of three adds, "I can be a mom and not a caregiver. That sense of comfort that I have 24/7 is really invaluable, and I don't know what our family would do it without it."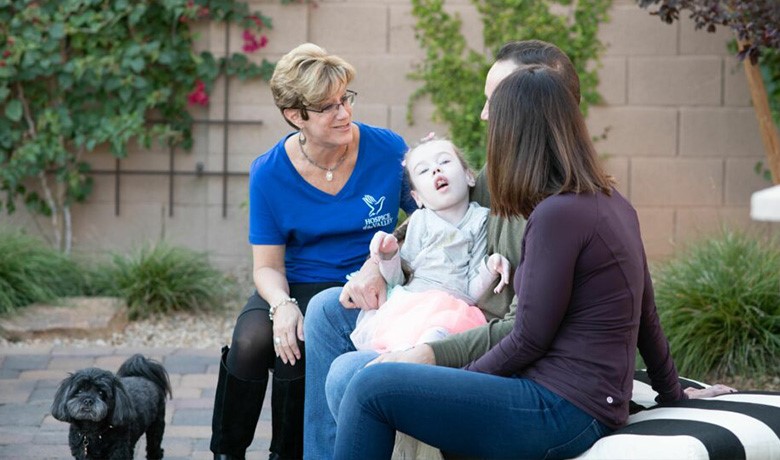 Sean, Jamie and Reesa Stutzman with their Hospice of the Valley social worker, Pam Ruzi.
Pam Ruzi is a Hospice of the Valley medical social worker who specializes in the unique needs of children with chronic, life-limiting illnesses. Because Hospice of the Valley offers the only perinatal, pediatric hospice and palliative care program in Arizona, she is a safety net for both Reesa and Gideon — and about a 100 other pediatric outreach families in the Valley.
"Our pediatric care programs across the board provide so much support. There's a huge security because once on our programs, all they need to do is pick up a phone and call," Pam says. "We're going to come into the home and we're going to provide comfort."
Kathleen turned down a job offer out of the state "because it didn't have the kind of support that Hospice of the Valley provides. The pediatric palliative care has been invaluable to support us in our home. I don't think that we could function as we want to as a family without that kind of support."
Sean Dobson and Kathleen Muldoon with their son, Gideon Dobson.
And the Peoria mom especially doesn't want to part with her beloved social worker. "It's just so wonderful to know that we have someone who understands us and understands our family," Kathleen says. "Pam has been such a great resource for finding support for our whole family. I can be a mom to Gideon and to my other two kids. It's nice to know we're not alone, that we can call Pam anytime we need."
She pauses for a moment and smiles. "I'm just happy to live in a place where people are able to hold my hand, and even through the scary time, to know that there are people who understand you." To learn more about Hospice of the Valley's pediatric programs, call 602-636-2232 or visit hov.org.