A thrifty, gifty season: Charity resale stores offer unique value, holiday cheer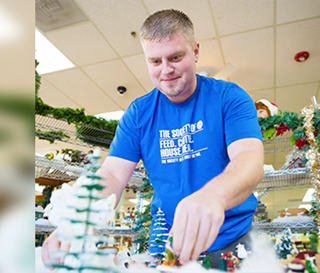 Store employee Chris Still arranges various holiday decorations St. Vincent de Paul Thrift Store, 12851 W. Bell Road, No. 7. [Jacob Stanek/Independent Newsmedia]
YourValley.net
November 28, 2017
By Matt Roy
Independent Newsmedia
With Black Friday in the rear-view and two-dozen retail days remaining, some West Valley residents are seeking colorful, clever alternatives to finish filling their carefully hung Christmas stockings.
Whether seeking the perfect gift for that has-it-all loved one, or making up for lost shipping time, neighborhood thrift stores offer shoppers a trove of hidden, half-priced gems and help to those in need.
One such shop is the White Dove Thrift Shoppe, 17045 N. 59th Ave., Glendale.
Anthony Denunzio manages the store and said it has something for anyone searching for the perfect gift or holiday decoration this season.
"We carry everything from clothing to furniture," said Mr. Denunzio. "And we have a huge area with older, vintage collectibles. Our setup is very boutique-like, with high-end merchandise. It's a bit of a step up from your typical thrift store."
Stocked with donations from locals, the store's shelves boast a broad variety of offerings, from toys and children's books, to jewelry, clothing, accessories, art, furniture, kitchen items and home décor. This time of year, the store is bursting with Christmas decorations, Mr. Denunzio said.
"We have Christmas trees, knick-knacks, rugs, ugly sweaters—basically anything you'd need to decorate for the holiday season, we have it," he said. "There's some really great displays with decorative dishes, glasses and cutlery," he said.
The store is manned by volunteers and all proceeds support the not-for-profit Hospice of the Valley, which for 40 years has provided care for people nearing end of life and their families, regardless of insurance or financial status, according to Beverly Medlyn, who is director of communications for the organization.
"One other thing that makes shopping at the White Dove unique is that many of our donors are family members whose loved ones experienced our beautiful care," stated Ms. Medlyn by email. "They give items that are not the typical cast-off objects that people dispose of or recycle. They are high-quality items, fine collectibles, lovely furniture, even designer clothes, shoes and bags."
Receiving, preparing and stocking donated items in the store requires labor, also freely given by volunteers in the community. For those wanting to share their stuff or their time for a good cause, Hospice has many needs and opportunities, Ms. Medlyn added.
"The shop is staffed by volunteers who ring up sales, assist customers, process and sort donations and create floor displays. Patient care volunteers also are needed," she stated.
Those interested in volunteering or donating merchandise can call 602-636-6336 or visit www.whitedovethrift.org.
St. Vincent's thrift store
A little further west, the Society of St. Vincent de Paul operates the Surprise Thrift Store, 12851 W. Bell Road, Suite 7.
Whether seeking that rare find, a screaming deal or both, the store has a lot to offer holiday shoppers in the Sun Cities, Surprise and beyond, according to Charlotte Wiedow, who manages the location, just one of 17 operated by St. Vincent's throughout Arizona.
"You just never know what you're going to find," said Ms. Wiedow. "We get new stuff every day. Women's and men's clothes and shoes, household goods, golf clubs, appliances and furniture. Anything you would need, you can find it here."
She said the store is stocked up with timely deals, including ornaments, model Christmas villages, and unusual holiday finds, all delivered with a personal touch.
"We even have all the stuff you need to make your own ugly Christmas sweater," Ms. Wiedow said. "This store is very small, but we're a very friendly, hometown store and we enjoy our customers," she said. "It's a fun place to shop and we try to get everybody on a first-name basis."
The store is operated by around a dozen volunteers. For those in the giving mood, St. Vincent's seeks donations of both goods and time to support its mission, explained Jessica Haag, a public relations manager for the organization.
"These items are donated for the community, by the community," stated Ms. Haag by email. "Each and every donation is processed by our volunteers and staff and then put up for sale in one of our stores. All proceeds from St. Vincent de Paul's thrift store sales go directly back into the organization. Those funds help support our mission to feed, clothe, house and heal individuals and families in need in Arizona."
Founded in 1946, St. Vincent's operates five dining rooms across the Valley serving about 4,000 meals every day of the year. Other programs and services include food boxes from any of 80 pantries operated across Arizona, as well as a medical and dental clinic, a transitional shelter and support services for families and people experiencing homelessness.
Prospective donors and volunteers can call 623-875-5004 or visit www.stvincentdepaul.net.