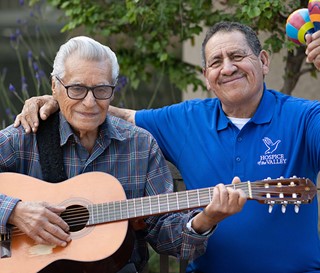 Volunteer Guadalupe Villegas Avina and his patient Feliciano make such beautiful music together!
The Wickenburg Sun
Nov. 30, 2021
by Lin Sue Cooney
The holidays are upon us… and so is the frenzied search for gifts to delight all the special people in our lives.
But have you ever stopped to consider that YOU are the perfect gift? Not only to family and friends who'd enjoy spending more time with you, but also to people you've never met before. People in need of a warm smile and a tender touch.
In a few weeks, Hospice of the Valley's innovative Dementia Care and Education Campus, at 44th Street and Indianola Avenue in Phoenix, will begin serving people and their family members who are living with all types of dementia. From the earliest stages to the most advanced, loved ones and their caregivers receive compassionate support and education to help ease what can be a lengthy and challenging journey.
A big component of this beautiful care comes from volunteers who visit with patients and families. We invite you to join our volunteer family and truly change lives with your companionship, conversation and laughter.
Volunteer Gretchen Surridge fell in love with dementia patients after caring for her own father. "I love the sweetness I see in them. I enjoy the challenge of finding a way to break through and get to the person who is still there. They are not the same, but they are still there. It's gratifying to unlock their happy memories. They have a whole life story, and I want to tap into that."
There are many rewarding ways to volunteer — from storytelling, art, dance, games and reading to nature walks around the beautiful campus courtyard. Med student Jia Kai Pan enjoys soothing families with his violin. "It amazes me how music can open someone's heart," he says. "I see them perk up and turn towards me — and sometimes, even the ones who don't really speak anymore start to sing."
The Dementia Care and Education Campus has a special need for volunteers with professional talents — licensed/certified hair stylists, nail artists and yoga instructors who enjoy pampering someone with a relaxing experience that lifts or calms the spirit.
Volunteer Debi Wineroth sees how people light up when she trims or styles their hair: "They sit taller in their wheelchairs or smile and stare at themselves in the mirror. There's something special about putting caring hands on someone and taking them back to a time when life was more normal and they felt beautiful. I'm so grateful to give them that bit of dignity."
Lynn Tolmachoff is a longtime volunteer manager with Hospice of the Valley. "Our volunteers are so diverse, but they all provide that one-on-one support to our patients, meeting them where they are," she says. "They help redirect someone who may be confused, they reassure someone who is distressed, and they bring indescribable joy to someone who only knows how to live in the present. They are a true gift."
So as we look toward the holiday season and into a new year, perhaps it's the perfect time to ponder our own unique gifts. And even more, how to give those gifts away.
To volunteer at the Dementia Care and Education Campus or with Hospice of the Valley, contact Angela Hofler at ahofler@hov.org or (602) 739-4717. It may be one of the most fulfilling things you ever do!