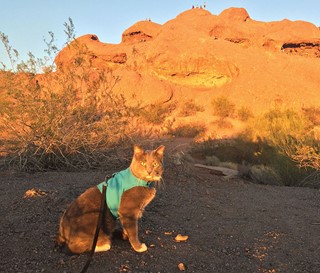 Phoenix Magazine
November 2018
By Mare Czinar
For years, Tracy Howell of Scottsdale dreamed of owning a cool gray cat who would walk on a leash with her on hikes.
Her cat fantasy came true with the help of some friends and an Italian greyhound who found and acted as a surrogate "dad" to a litter of kittens born in a shed. "Roger and his brothers were raised in a blended family with a dog dad and a cat mom," Howell says. Adopted at 3 months old, Roger's decidedly un-catlike personality — including a willingness to walk on a leash — convinced Howell that he could be more than just a hiking buddy.
Howell and Roger enrolled in the Pet Partners evaluation program to see if he had the chops for therapy work. "Once I completed the class we registered to take the test, where the evaluators create a variety of scenarios that a therapy animal might encounter," Howell says of the rigorous certification process. Roger passed with flying colors. The pair now volunteers with Hospice of the Valley and Barrett, The Honors College at Arizona State University. But it's not all work for the spirited team. They also enjoy hiking all over the Valley, especially in Papago Park in Phoenix and on the trails of Boyce Thompson Arboretum in Superior.
"I think what motivates us to make the drive out to Boyce Thompson is that the people who hike there are friendly and polite," Howell says of the botanical oasis along Queen Creek. "I think if you asked Roger this question, he might mention the giant lizards he chases there or the giant vultures he loves to sit and watch."
Of course, a hiking cat does tend to attract attention. Roger is cool with the spotlight and taking pictures, but doesn't appreciate loose dogs — the flying monkeys of feline fears.
To follow Roger's therapy work and outdoor adventures, visit therapycatroger.com