Phoenix First Responders Learning To Work With 2 Unique Populations
91.5 KJZZ
Tuesday, May 8, 2018
By Kathy Ritchie
First responders often find themselves in situations involving people with dementia or people with disabilities. These encounters can sometimes end poorly, like in the case of a teenager with autism whose run in with police made headlines.
Two Phoenix agencies are learning how to work with these diverse populations.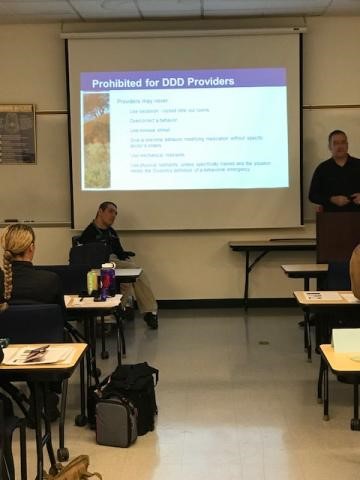 Randy Russell and Justin Harris co-facilitate a training for Phoenix police. At the urging of Phoenix Police Chief Jeri Williams, Phoenix Police Department added disability training for new officers.
Randy Russell has cerebral palsy. He's pretending that his motorized scooter is stuck in the middle of a busy road.
The officer, a recent police academy graduate, is trying to help.But first, he has to understand what happened.
Russell's disability can make communication difficult, and in real life, that could lead to excessive force or worse. According to a white paper commissioned by the Ruderman Family Foundation, a third to half of people killed by law enforcement are people with disabilities.
In another exercise, officers are asked to figure out what Russell's saying — and they're struggling to understand.
Russell and his co-facilitator Justin Harris, who is with the Arizona Division of Developmental Disabilities, have worked together for about eight years educating communities about this population. But this is their first year working with police.
"Sometimes they don't know what to do with people who have disabilities," said Russell, "and so what I tell people they need to talk to people to help the officer."
Sabrina Taylor is a detective and the crisis intervention team coordinator with the Phoenix Police Department. She said late last fall, Phoenix Police Department added this type of training for its new officers at the request of Phoenix Police Chief Jeri Williams.
"You know, when I was looking at what was missing and what to recommend to the chief, we don't cover disabilities anywhere in basic training and I thought it was a huge gap we needed to fill," said Taylor.
Besides role playing, officers learn about other disabilities including autism, which affects one in 68 children, according to the Centers for Disease Control and Prevention — children who grow up. And whose disability can sometimes appear to be something else.
The Buckeye police officer in this bodycam video thought the 14-year-old boy was on drugs because he was "stimming," a common coping method for people with autism. When the teen turned to leave, the officer pinned him to the ground.
In January, the boy's parents filed a notice of claim, arguing the Buckeye police violated the Americans With Disabilities Act by failing to train the officer about disabilities.
Another population that first responders are encountering with more frequency are those living with Alzheimer's disease and other dementias.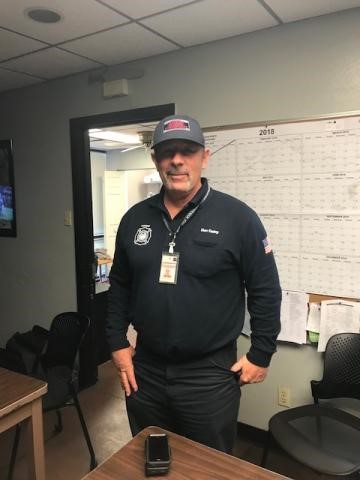 Fifteen individuals have been selected to participate in Hospice of the Valley's Dementia Care Fellowship program for 2018. They include nurses, educators, social service providers, physicians and Captain/Paramedic Dan Daly.
Phoenix Fire Station No. 31 sits between Phoenix and Scottsdale, and the calls these firefighters respond to reflect what's happening nationwide: a silver tsunami.
"We have a large number of care facilities in our area, both residential care facilities and large care facilities," said Captain/Paramedic Matt Belli with the Phoenix Fire Department.
Belli has been at this station for about nine years. He said he's seen an increase in the number of people with dementia on their calls.
"And that's the thing here you kinda learn as we go, we don't have an educational program or CE for that, we get our own little routine down," said Belli.
He said having clearer guidelines when it comes to these calls would help — and that's where Phoenix Fire Captain/Paramedic Dan Daley comes in.
"Life doesn't quit having value at a certain point. Dealing with these vulnerable population in the geriatric community, we have to be progressive, innovative, you know, just think of new ways of doing things," said Daley .
And that's what Daley is doing by creating a dementia training program specifically for firefighters, paramedics and EMTs.
Hospice of the Valley is supporting Daley's effort. Last year, the organization asked the public to submit ideas for projects that could improve life for those living with dementia. Daley and 14 others were awarded $10,000 to bring their ideas to fruition.
"We have to push forward in our education of our people who provide the care," Daley said.
Because the disability and aging worlds are colliding. According to the 2017 Disability Statistics Annual Report, as the U.S population ages, the percentage of people with disabilities will also increase.