Pet Therapy has a Soothing and Calm Impact on the Soul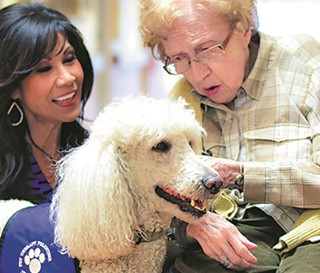 National Veterans Magazine
May 2020
by Lin Sue Cooney
My dog thinks he's a person.
Probably because I treat him like one. I say "please" when I ask him to sit. I say "thank you" when he pauses at the door to let me go first. He sits patiently when I brush his teeth — and dings a hotel bell with his paw to indicate he'd like to go outdoors.
I think you get the picture. Max is very good at understanding humans and has no problem pretending to be one. It's exactly what makes him an ideal therapy dog.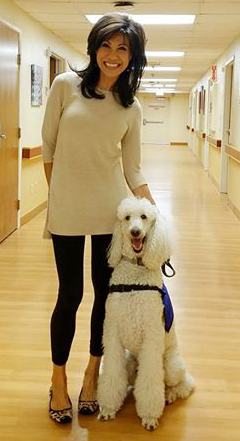 We became a certified pet therapy team just over two years ago — intending to do something fun and service-oriented for Hospice of the Valley patients. We had no earthly idea how rewarding it would be.

Hospice of the Valley has 75 pet therapy teams — mostly dogs — but cats, miniature horses and bunny rabbits, too. Those animals (and their humans) are a phenomenal comfort to patients. If it's ever crossed your mind to give it a try, let me do my best to convince you.
At first, it may feel strange, but just follow your furry companion. No matter how someone looks, sounds or smells, dogs accept them unconditionally. Pooches are unfailingly cheerful, eager to please, content to just share the space beside you. All invaluable traits when it comes to brightening someone's day — someone who may no longer have human visitors.
When Max and I step into a room, something magical happens. People who were sitting vacant-eyed perk up and smile. They point and reach. They coo and beckon. And Max is thrilled to oblige. He prances from outstretched hands to clapping ones and boldly, but gently, nudges fingers that lay stiff or still in someone's lap.
I'm here for you, his nose bumps. Hi there, I'm back to see you, remember me?
As a puppy, he bravely endured two young boys gleefully opening and shutting his eyelids for him. He learned trust and cultivated an enormous will to please — great training for pet therapy all these years later.
Now, when dementia patients grab his curly top knot, he shuts his eyes and waits until they free him. When they roughly tug his long soft ears or poofy lion tail he holds still and I'm the one who winces. Two seconds later his eyes are twinkling again and he's back for a pat on the head.
When hospice patients rouse from a foggy dream state to ask his name, Max responds as if he's being introduced. When they try to kiss him, he doesn't shy away. When they reminisce about a dog they used to have while absently stroking his fur, Max stands motionless as if movement would break the spell.
True, our visits are often mundane — a patients doesn't like big dogs, or is too tired or ill to notice we're there. Maybe it's a family member who enjoys meeting Max. Sometimes we never had a clue that our boring few minutes with Betty was later described to staff as the highlight of her week.
But there's no doubt in my mind that pet therapy is wonderful medicine. It cheers and comforts. It breaks the monotony of an endless day and calms a restless, lonely heart. Best of all, it's a gift not only to the patient but to Max and me — a reminder that unconditional love is all any of us really needs.
If you're interested in joining Hospice of the Valley's Pet Connections Team, call 602-636-6336; www.hov.org/volunteer/pet-therapy.