HOV Nurse Learns The Amazing Backstory Of Mesa Icon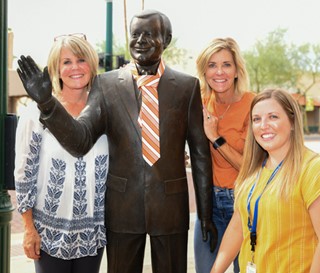 The Arizona Beehive
October 31, 2019
By Lin Sue Cooney
When Bessie Medigovich visited her beloved patient, Wayne Pomeroy, shortly before he died in April, the Hospice of the Valley nurse had no idea the affable 98-year-old was a bona fide Mesa icon. All she saw was an extremely kind man and "very family-oriented person" adored by his four girls.
She didn't know the civic leader and fourth-generation Mesa resident had served on the City Council and as mayor from 1966 to 1980. Or that his Main Street store, Pomeroy's Men's and Missionary Store, has been a fixture in downtown Mesa since 1951. Or that he was active and widely respected in the Church of Jesus Christ of Latter-Day Saints. In fact, Pomeroy's is a "destination store" for church missionaries in need of suits, ties, shoes and other accessories.
Then there was his Air Force service during World War II. Badly wounded flying on this 11th bombing mission, Wayne received both Purple Heart and Silver Star medals.
"We don't get the backstory. I had no idea!" Bessie said outside Pomeroy's, marveling at a bronze sculpture of Wayne that graces the front of the store. The artwork is part of "Sculptures in the Street," which Wayne created in 1999 to draw business to Main Street.
"He was the sweetest man. He was the nicest man!" Bessie said when she recently reunited with two of Wayne's daughters, Michel Fluhr, who owns the store now, and Lisa Bargery.
Lisa couldn't wait to thank in person the "wonderful young nurse" who went above and beyond to give them a positive experience during such a trying time. The 32-year-old Bessie is a "visit nurse," helping with urgent needs and covering for other nurses when they're off. All nurses, however, play a critical role in hospice care: "We are the eyes and ears for the doctors," Bassie said.
"At the end, our visits increase because patients need more support. With each encounter, I try to take in what's important to the family," she said. For Wayne's family, "his comfort and peace were very important — and respect, of course."
Lisa was blown away by how thoroughly Bessie explained "everything" to them, from how to administer medication to manage pain to what to expect in Wayne's final days. "I think you were there for 45 minutes to an hour," Lisa told Bessie. "You helped him feel comfortable and put us at ease. It was so helpful, you were so calm."
Lisa and Michel said Bessie prepared them emotionally, too. "We used to say he'd get better. He always rebounded," Michel said of her dad, who worked every day until he was 93. His second-story office remains intact, filled with memorabilia from a life fully lived.
Wayne's great-grandfather, Francis Martin Pomeroy, co-founded Mesa in 1878. Serving the community was in Wayne's DNA. He always said, "This city did so much for me, I have to give back," Michel recalled.
Wayne met his wife, Cecil, at Mesa High School and they were married for 73 years. She died in early 2017 of Alzheimer's disease at age 93. That was the family's first experience with Hospice of the Valley. "They were fabulous," Lisa said.
When Wayne's health began to decline due to heart failure, the family wanted the same compassionate care for him. Wayne continued to live in the house where he raised his children.
"It's not about dying," Lisa said.
Indeed, Hospice of the Valley believes it's about living every moment you have left.  The not-for-profit hospice upholds a mission to provide comfort and dignity at end of life, while supporting the family and caregivers throughout the patient's journey. Many need help with important healthcare decisions or spiritual healing, so care teams include a social worker and chaplain. Volunteers provide patient companionship and respite to caregivers.
Now, Lisa says, it's her turn to give back after Hospice of the Valley cared for both of her parents. She is eager to join the volunteer ranks and lend whatever support she can to the agency that has turned no one away since it was founded in 1977.
"We can't thank them enough," she said.