Hospice volunteers honor fading first responders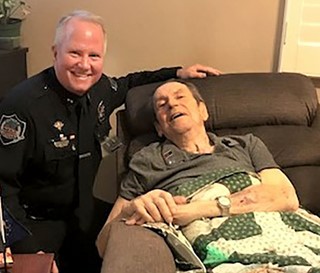 Hospice of the Valley volunteer and Mesa police Cmdr. Bill Peters visits with Walter Schutt, a former police chief.
Santan Sun News
November 16, 2019
by Lin Sue Cooney
Much like our touching program that honors military veteran patients, Hospice of the Valley volunteers are helping us grow a similar program called Honoring First Responders.
Our goal is to recognize emergency, medical and law-enforcement officers for their bravery and service to the community — and to address their special needs at end of life, when past traumatic experiences sometimes emerge.
"Cops can talk and relate to other cops. It doesn't take very long for a patient to open up to me and start sharing stories about their time as an officer," said HOV volunteer and Mesa police Cmdr. Bill Peters. He was honored to visit Walter Schutt, a former police chief in upstate New York, and hopes "all first responders can finish their journey knowing they made a difference!"
On another visit, Bill called on a former Mesa police officer at HOV's Lund Home in Gilbert. Richard "Dickie" Leonard was medically retired in 1980 due to an on-duty motorcycle accident. "I was a motor officer too," Bill said, "so I can totally relate to him. And having the opportunity to recognize his service before he passes is quite a privilege."
Bill still remembers his very first visit.
QUESTION: What surprised you about it?
ANSWER: The gentleman was very near end of life. He had a very long law enforcement career in another state. He had difficulty speaking, but shared some "war stories." When I saluted him, he returned my salute, even though he was very weak. It was an emotional experience for sure.
Q: What is the message you try to convey when honoring a first responder?
A: I want them to know they made a difference in their community, that what they did in life mattered.
Q: How do our patients and their families respond to these tributes?
A: This is an opportunity to celebrate how special their loved one is. I can see a sense of pride in the eyes of the first responder and the family members when I share that very few people have the courage, strength, commitment, intelligence and integrity to be a first responder. I once had a patient's son in full police uniform join me in honoring his father with the salute. I don't think anyone in the room had a dry eye.
Q: Why is your law-enforcement background important when you visit a patient who served as first responder?
A: Regardless of the size of the agency one serves in, we see things that few experience — the best and worst of humanity. There is a certain brotherhood we can relate to. Much like military veterans can relate to one another, so do first responders.
Q: How did HOV volunteer training prepare you for Honoring First Responders?
A: I always try to remember that the meeting is about them and their journey. It's really about letting them share. Sometimes, they are not verbal or I cannot understand what they are saying, but they still try to communicate. A lot of it is just being there to recognize them and honor them for their service.
Q: How has this program impacted you personally?
A: I feel honored to be able to reach out to those who served in my profession and recognize them for the sacrifices they have made in serving their communities. It seems like the least I can do. It's such a small thing on my part, but huge to them. They deserve it.
Q: What are the main needs of the program now?
A: We need more volunteers. There have been times when I have been out of town and unable to provide an Honoring First Responders service, only to find the patient has passed on by the time I get back home. I feel horrible when this happens, so we could really use a backup. And we really need fire department volunteers.
"We are truly grateful to our first responder volunteers for their time and commitment in creating awareness and support of this very special program. We couldn't do it without them," said Stacia Ortega, HOV's director of volunteer services.
To learn more about Honoring First Responders and other volunteer programs at Hospice of the Valley, email volunteeropportunities@hov.org, visit hov.org/volunteer or call (602) 636-6336.

Lin Sue Cooney is community engagement director at Hospice of the Valley.