Hospice trains Benevilla staff in Dementia Moments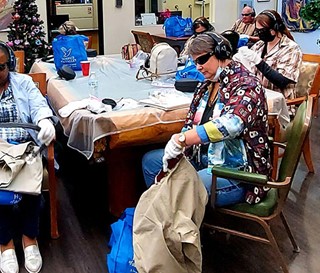 Sun City West Independent
March 17, 2022
by Lin Sue Cooney
Earlier in March, Hospice of the Valley's presented a Dementia Moments workshop to the staff at Benevilla, a Surprise-based nonprofit.
This workshop is an eight-minute experience that presses participants to perform some daily living tasks as if they were living with Alzheimer's disease or another form of dementia. Members of Hospice of the Valley's dementia team visited Benevilla, which serves older adults, adults with disabilities and their caregivers in the West Valley.
The workshop involves performing simple tasks, such as buttoning a shirt or counting coins, while wearing gloves, goggles and headphones blaring background noise. The goal is to simulate the emotional experience of someone with dementia trying to perform in a normal world while struggling with distorted perception and difficulty thinking.
After the experience, participants share their thoughts. They discuss what might have helped them perform the tasks better and learn some approaches to minimize the distress of people living with dementia.
Hospice of the Valley Medical Director Dr. Gillian Hamilton, Adult Day and Intergenerational Manager Michelle Bales and dementia educator Helena Morgan led the workshop.
HOV started Dementia Moments before the onset of COVID-19 and the workshops were provided to people of all ages, even high school students. After two years, Hospice of the Valley is finally able to resume the program.