Lin Sue Cooney: Hospice program honors first responders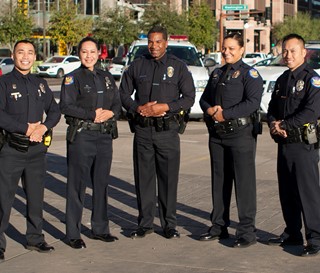 The Arizona Republic
September 30, 2017
Say the word hero and what comes to mind?
Soldiers risking their lives to protect us.
Police officers, firefighters and other first responders rushing headlong into danger as the rest of us are fleeing it.
Yet these public servants don't consider themselves heroic at all — they humbly accept daily peril as "just part of the job." Most are never recognized for their bravery and selfless service.
We want to change that. This month, Hospice of the Valley is proud to launch a new program called Honoring First Responders to pay tribute to our patients who once served as emergency, medical or law enforcement officers. The idea came from one of our volunteers — retired police officer and military vet Rodney Dehmer.
Like military veterans, first responders may experience traumatic memories and flashbacks at end-of-life. Many don't want to burden family members with those feelings — so they need a safe place to share what's heavy on their hearts.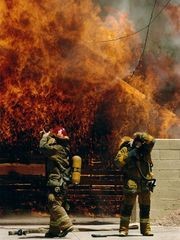 Former firefighters and other first responders often have unresolved issues at end of life. Hospice volunteers are there to listen. (Photo: Phoenix Fire Department)
Rodney feels privileged to support them. "They never asked for recognition or reward, but just wanted to help those who at some point in time, could not help themselves. Let's thank them on their final journey, by touching their heart, with our own."
Honoring first responders is modeled after a program we started six years ago called Saluting Our Veterans.
To date, 2,100 veteran patients from all branches of service have been honored. In homes across the Valley, a Hospice of the Valley volunteer who is also a veteran presents a special pin to the veteran patient and gives a ceremonial flag to family members. It's a simple but deeply meaningful gesture of gratitude for their courage and sacrifice.
Perhaps the most special moment comes after the pinning, when both veterans spend some time together alone. That quiet opportunity to share feelings — both good and bad — is a balm for the soul. No one understands wartime regret and anguish better than another veteran.
And now that peace and comfort will be shared with first responders in our community. What an honor for us to share in the recognition of so many of our own hometown heroes!