Hospice patient discovers purpose as 'Lego Master'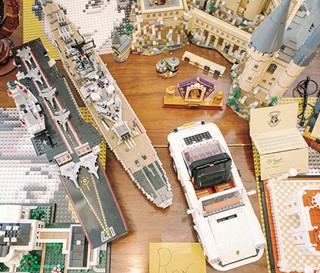 Arizona Republic
Oct. 1, 2022
by Lin Sue Flood
Forget bingo. Forget "old movies." Ron Parmley has no interest in the activities his housemates enjoy at Lincoln Heights, an assisted living home in Phoenix. "I've always liked to work with my hands," the 82-year-old explains.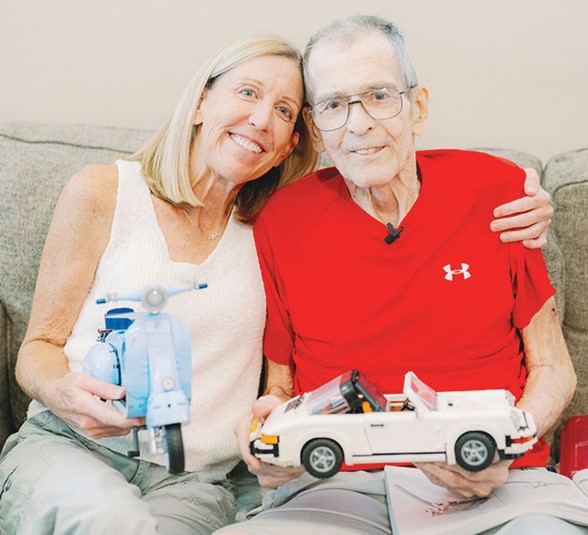 Ron Parmley pictured with his daughter, Robin.
Ron used to build coffee tables, end tables, pool tables and shuffle board tables in his wood shop — and that was just as a hobby. When his health declined, his three doting daughters put their heads together to figure out what could replace woodworking. "We thought, 'Maybe he'd like Lego.' So we got him the Lego kit for the Golden Gate Bridge," Robin Parmley recalls.
It was the first of more than 40 elaborate sets that now adorn the living room of Lincoln Heights, where he is known as the "Lego Master," no relation to the Fox TV show. They include the Taj Mahal, White House, Disney Castle, Ice Castle, Hogwarts Castle, a three-floor police station, Barcelona's Camp Nou soccer stadium, Van Gogh's "The Starry Night," and a 10,000-piece masterpiece called the Haunted House.
"It's not that difficult if you just follow directions," says Ron, who calls The Lego Store his happy place.
But a few weeks ago, Robin wondered if her father would ever complete another Lego project.
"We were taking Dad to the ER a lot and knew he needed more care, so we called Hospice of the Valley. Like a lot of people, we felt like we were giving up," she shares. "But we don't feel that way anymore. In fact, it's just the opposite. They have been so attentive to his needs — physically, mentally, emotionally. It's been amazing. I feel that we are a team with a common goal."
The goal: to help Ron regain his energy and appetite. His family believes the personalized care and 24/7 support have allowed him to bounce back. "Once we called at 2 in the morning and a nurse came out. Having constant access is very comforting," Robin says.
Hospice of the Valley social worker Cathy Jacobsen couldn't help but notice Ron's Lego projects while visiting her other patients at the group home. Now that she is part of his care team, she loves watching him build each set from scratch, sometimes in a matter of days.
"What he does is so unique, we had to tell his story. I knew it would boost his spirits," she says. "I'm very happy that more people will be inspired by his Lego creations."
So now, when Robin visits Ron and sees him working on his latest Lego project, "I see a lot more than a toy. I see progress," she says. "Our family knows hospice was the right decision, and that's a great feeling."
What's next for Ron? "He's waiting for Lego to come up with a kit for the Arizona Cardinals stadium," Robin says with a laugh. "I hope they realize how therapeutic Legos are for grown-ups."