Hospice of Valley patient battling rare heart condition takes helicopter ride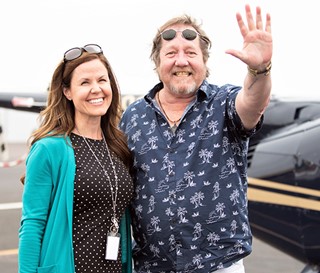 Hospice of the Valley social worker Andrea Toczek with patient Ron Davis.
ABC15
March 9, 2020
By Zach Crenshaw
MESA, AZ — Six months ago, a Valley man was given six months to live. On Monday, he had his "final dream" realized when he took a helicopter flight high above the Superstitions and Roosevelt Lake.
Ron Davis is 59 years old, but he wears a dog tag around his neck with his name and hospice phone number. "Just in case, to make things easier," he says, referencing his possible death.
Ron is the first person to tell you, he could die any day. "Back in August the doctors told me I had six months to live," he said.
The Carefree resident has a rare heart condition, an aorta dissection, which is when the large blood vessel connected to the heart tears. "It could happen, literally, at any moment. It's that one layer that's left," he said. "Back in August, I snapped through two."
With time dwindling, a Hospice of the Valley nurse asked Ron if there's anything he wanted to do.
"I was just saying, 'Well, do they have anything, maybe a helicopter ride or something like that?" recalled Ron.
That message was quickly passed along to Sage Liu and the Dreamcatchers Foundation chapter at Red Mountain High School.
"Someone was like, 'I know a helicopter pilot.' And that was Riley."
"My wife and I talked a little bit about how we could do it and help out," said Riley Kernagis, a helicopter and airline pilot. "We said we would donate some money as well as my time for flying with the organization and we started a GoFundMe and raised about 600 bucks on top of that."
Ron flew above the Valley for more than an hour, seeing the Superstitions and Roosevelt Lake, places the Arizona native has visited his entire life and wanted to see one last time.
"It's not just a helicopter ride. I mean, it is, but it's his dream and we're making it come true," said Kernagis.
"This is just amazing and I just can't stop grinning," said Ron. "This is the last of the bucket list. I couldn't be more blessed I've had a great life, so I'm not afraid of it. My faith is huge."