Hospice of the Valley wins 2018 Circle of Life Award from the American Hospital Association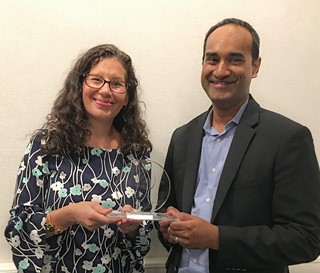 Gobi Paramanandam and Rachel Behrendt
Sun Life
November 1, 2018
Hospice of the Valley wins 2018 Circle of Life Award from the American Hospital Association
Known as the leading provider of hospice care in central Arizona for more than 40 years, Hospice of the Valley has been honored for pioneering innovative programs that serve as models of inspiration for care providers across the country.
The not-for-profit agency was recognized for creating three cutting-edge palliative care programs: Arizona Palliative Home Care (AZPHC) — Caring for people struggling with advanced, chronic illness but not ready for hospice.
Palliative Care for Dementia — Supporting patients at all stages of dementia and their family caregivers.
AZPHC Transitional Care — bridging the gap between hospital and home.
"We are thrilled and honored to be recognized by one of the nation's premier healthcare associations for helping to improve quality of life for these seriously ill patients who need specialized care and support," said Debbie Shumway, executive director, Hospice of the Valley.
These palliative care programs serve seriously ill patients who are not yet at end of life but can benefit from in-home care. Hospice of the Valley meets that need by creating individualized care plans that also include online "virtual visits" with physicians and 24/7 telephone support by nurses. Care coordination, education, and conversations about goals of care are essential parts of the service.
The programs also provide critical emotional support to family members, who often feel overwhelmed caring for a loved one suffering from chronic illness. Knowing what to expect and who to call in a crisis helps reduce stress and anxiety and relieves their feelings of isolation.
The award committee commended Hospice of the Valley for having the vision, commitment, and initiative to create new ways of caring for people with advanced illness. By proactively engaging the community and building partnerships with insurance companies
and payers, the agency improved outcomes for high-risk patients. These new programs deliver quality care and demonstrate value — monetary value — as well as physical and emotional benefits.
"Quality of life is vastly improved because patients have peace of mind- and reducing unnecessary hospitalizations results in significant cost savings," said Gobi Paramanandam, MD, director of AZPHC. "If an issue arises in the middle of the night or on the weekend, they can call us instead of going to the emergency room. Our nurses can address the problem on the phone or make a home visit if needed."
One of Hospice of the Valley's foundational values is "think yes" — and that cultural belief translates into a mindset that every obstacle can be overcome. When the current healthcare system can't help patients, the not-for-profit agency is committed to bridging the gap.
"Our work in developing such a broad array of palliative care programs is rooted in our belief that people deserve a safety net to prevent them from falling through the cracks," said Rachel Behrendt, DNP, RN, NEA-BC, senior vice president, Hospice of the Valley. "We recognize and value the trust patients, families, and communities place in us — and we work to continually earn that trust by meeting their needs with compassionate care — providing comfort and dignity to all who come to us."
This is the 19th year of the association's Circle of Life Award, given annually to outstanding organizations. Two other 2018 Circle of Life award recipients were also recognized: Western Connecticut Health Network (Danbury, Conn.), and Penn Wissahickon Hospice and Caring Way (Philadelphia, Pa.).
This article was contributed by Beverly Medlyn, communications director, Hospice of the Valley, serving central Arizona since 1977.