Hospice of the Valley Volunteers Find New Ways to Serve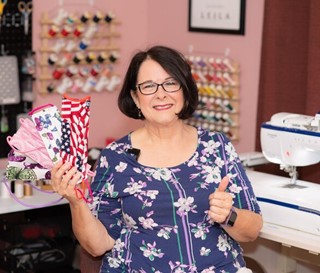 Local First Arizona
Oct. 27, 2020

Not only have businesses needed to adapt and pivot during COVID-19 but so has the way we interact and take care of each other. This is especially true at Hospice of the Valley, an end of life care facility located in Maricopa County. Hospice of the Valley was founded by volunteers in 1977 and continues to rely upon people willing to donate their time. Volunteers have the opportunity to provide service in the Valley office and at their thrift shop but the most important thing they do is provide companionship to patients, young and old, and a break for their family members. COVID has changed the way that the volunteers at the Hospice of the Valley help the residents. While they cannot be there in person, many volunteers have found other ways to take care of their fellow man. Thank you to Lin Sue Cooney, director of community engagement at Hospice of the Valley, for sharing these stories of community and care.
Community Heroes Rise Above Coronavirus
Linda Muller, a volunteer at the Hospice of the Valley, is a mask-making wizard.
Linda hit the sewing machine as soon as her volunteer visits with patients were suspended due to CDC safety recommendations. At last count, she had donated 545 masks to the not-for-profit agency, so that family members can safely be with their loved ones at the bedside. She aims for 60 masks a week, all washable, reversible — and lined for an extra layer of protection.
Linda started sewing as a teenager. She had no idea how to make face masks but taught herself by watching online videos. When the pandemic hit Arizona, she began turning out masks for friends, family, and frontline workers across the country. So far, Linda has made 800 masks ― even shipping some to "chemo nurses" in South Dakota.
Using her own fabrics and paying for many supplies out of pocket, Linda has been on her own mission: To give back to the agency that provided beautiful, compassionate care to her father over 20 years ago.  
"I'm happy to be part of it, however little contribution I can make," the humble 66-year-old says. "It's my way of paying it forward."
Chaplains Help Our Community in Challenging Times
In the last two months, Hospice of the Valley chaplains Stephen Gardner and Bob Barrett have held virtual presentations on coping with grief and loss. Nearly 200 people registered for the free Zoom events, including many who run or work in facilities that banned visitations to prevent the virus from spreading.
Barrett praised stressed family and professional caregivers, saying "Be sure to reinforce your own positive self-talk —  you are doing all that you can and your efforts make a difference."
To stressed spouses suffering burn-out, Gardner encourages: "There's a huge need to take care of oneself, to make proper investments in our own mental and spiritual well-being if we're going to be good caregivers."
The chaplains work long days, odd hours, and lots of weekends but whenever a need arises they answer the call. "We are privileged to do this work," says chaplain Cristiano Artigas. For the time being, much of the comfort they provide will take a different shape. Instead of face-to-face conversations and a gentle brush of the hand—they are embracing technology to connect with loved ones and each other.
"It's so very special to be able to reach so many people in the community through our virtual presentations," Barrett shares. "We love to support our community with the same commitment we extend to our patients, families, and caregivers."
Saluting Our Veterans
Denny Bash's military career is one of steely dedication. The Vietnam-era Veteran served 32 years in the Navy; and when his children joined the U.S. Air Force Auxiliary, he joined it too.
Bash is a pretty tough cookie. But each time he pays a tribute visit to a fellow veteran at the end of their life, the Hospice of the Valley volunteer gets emotional. "I cry at every one of them," he confesses. "I love the service. The military has given me every break in my life and that's the reason I'm giving back." Bash is one of 45 volunteers — all veterans —with our agency's Saluting Our Veterans program. Since its inception in 2011, the program has honored more than 2,700 veteran patients for their service to our country.
COVID-19 has certainly caused some challenges. Instead of being there in person to present a ceremonial pin and small flag, volunteers like Bash are invited into a family's home through a video screen. Just like before, the two veterans are able to spend time reminiscing about their service — one last chance to share experiences. It's quite obvious how much pride and gratitude veteran patients feel, as they recall special times of camaraderie and accomplishment. And their families are grateful to have some precious new memories to treasure after their loved one has passed.
Hospice of the Valley volunteers agree: Virtual visits still provide a beautiful way to honor the brave men and women in our community who are facing an end-of-life journey. "In good times and hard times, it's our extraordinary honor to pay tribute to these heroes in our community!" says teary-eyed volunteer, Bash. "It feels incredibly rewarding."