Hospice of the Valley recognized for supporting Arizona veterans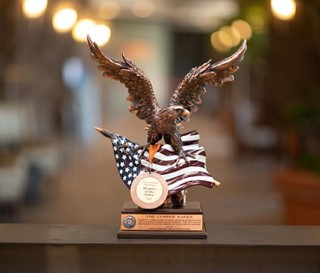 Arizona Veterans Hall of Fame Society presented Hospice of the Valley with its Copper Eagle Award.
City Sun Times
June 25, 2021
by Lin Sue Cooney
The Arizona Veterans Hall of Fame Society presented Hospice of the Valley with the prestigious Copper Eagle Award for compassionately supporting veterans in the community. Over the past 10 years, veteran volunteers with the agency's Saluting Our Veterans program have made nearly 3,000 tribute visits to veteran patients and their families to honor them for their service and sacrifice to our country.
"It is such an honor to enhance the compassionate care we provide veterans in our community. These visits are a show of gratitude, but also an intimate time of sharing between veterans who truly have a bond like no other," said Stacia Ortega, Hospice of the Valley director of volunteer services.
"It's a chance for veterans to share and reminisce," said Salutes volunteer and chaplain Stephen Gardner, now retired from the Army. During his 22-year military career, he provided spiritual support and counseling to wounded soldiers receiving medical care. It means a lot to him to continue ministering to veterans' needs as a volunteer.
"I often see these tribute visits elicit stories that have never been shared before, creating precious new memories for family members."
The volunteers — men and women — come from every branch of the military, active and retired. They make tribute visits across Maricopa County, providing a ceremonial pin, small military flags and one-on-one time with a fellow veteran. Each visit ends with a formal and heartfelt salute of gratitude. Hospice of the Valley chaplains like Gardner also are trained to provide emotional support to veteran patients who may be experiencing PTSD.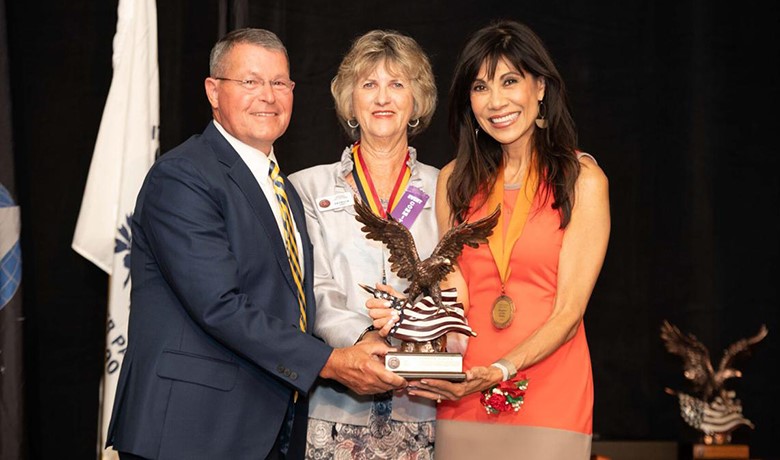 Hospice of the Valley veteran volunteer Denny Bash and Community Engagement Director Lin Sue Cooney with event co-chair Pat Upah (center). Bash and Cooney accepted the Copper Eagle Award on behalf of the nonprofit agency.
The Copper Eagle Award was presented to Hospice of the Valley "for outstanding patriotism and unique combination of leadership and compassion." In accepting the award, Community Engagement Director Lin Sue Cooney shared touching stories of tribute visits she witnessed.
"I've heard veterans describe historic moments like storming the beaches of Normandy," she recalls. "Some are moved to tears, remembering friends they lost to war. All are deeply humbled that their courage and dedication are being recognized so many decades later."
Saluting Our Veterans currently has 34 volunteers. Hospice of the Valley welcomes any veteran interested in joining the program. Visit hov.org/volunteer or call 602.636.6336.