Hospice of the Valley provides culturally sensitive end-of-life care to Jewish patients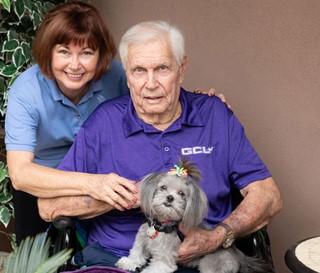 Jewish News of Greater Phoenix
August 2020
by Janet Perez
Operating Hospice of the Valley is an enormous undertaking. It was founded by volunteers in 1977 as Arizona's first hospice. Today, Hospice of the Valley has almost 1,500 employees and has become the largest hospice in the nation.
Because it serves thousands of people from all walks of life each year, cultural sensitivity is important. In the following interview, Hospice of the Valley Executive Director Debbie Shumway discusses what the organization offers all patients and what it is doing to care for Jewish patients.
What is Hospice of the Valley's mission?
Hospice of the Valley's mission since 1977 has never wavered: We bring comfort, dignity and compassionate care to our community.
We're dedicated to providing personalized care to children and adults in Central Arizona who suffer advanced illness or a terminal illness nearing life's end. As a not-for-profit organization, Hospice of the Valley serves all who come to us, regardless of insurance status or financial means. Through generous community support, we were able to provide over $11 million in charity care and community services last year.
Our care teams — consisting of a doctor, nurse, social worker, nurse's aide, chaplain, volunteer and bereavement counselor — provide 24/7 service in the comfort of home or at one of our nine in-patient care homes or in community residences such as skilled nursing facilities around the Valley.
We strive to enhance the comfort of our patients and families with special programs such as massage, music, art and pet therapy; award-winning dementia and pulmonary care programs; comprehensive grief support programs for adults, teens and children, including the New Song Center for Grieving Children; and a specialized pediatric palliative and hospice care program for medically fragile children.
As Maricopa County grew, so did Hospice of the Valley, which is now the largest not-for-profit hospice in the nation. Last year, we were privileged to care for 19,000 patients in families.
What are some of the challenges the organization has faced?
The biggest challenges we face involve several misconceptions about hospice care. Many incorrectly believe hospice is expensive, requires giving up your doctor, that it could "run out" on you and, most distressing, they believe hospice hastens death.
The truth is hospice care is fully covered under Medicare and Hospice of the Valley cares for all, regardless of ability to pay. Patients can keep their own doctor, who works with the hospice team. Individuals can choose hospice as soon as they need it because the benefit doesn't expire or get used up. And patients are always free to leave hospice care to pursue additional treatments or try a new therapy … and come back to hospice when they're ready. It's their choice.
What is an example of how Hospice of the Valley has helped Jewish seniors?
Chaplains, rabbis and our Shabbat Blessings volunteers fulfill the spiritual and religious needs of our Jewish patients. Through partnership with Kivel Center, kosher meals are provided to patients at our nine in-patient care homes. Recently, we cared for a patient who was transferred from the hospital to one of our homes on a Sunday. She was Jewish but not a member of a congregation.
Shortly after arriving, she told her nurse she wanted a rabbi to visit and give "Mi Shebeirach," the prayer for healing. The staff, while simultaneously attending to her need for physical care and symptom management, sprang into action and after a series of calls, one of our on-call rabbis arrived at the bedside to provide spiritual support to her and to her family.
Why do you think Hospice of the Valley is so important to Jewish seniors?
Hospice of the Valley is important to Jewish seniors because the care provided is culturally sensitive, helps them live well at home — wherever they call home — and provides peace of mind to them and their family knowing support is available day and night.
Additionally, Hospice of the Valley provides education to our community, including at our local synagogues. These offerings range from dementia education to discussions about goals of care and how to have conversations with your family to understanding the differences between palliative care and hospice. We are also proud to provide training to nurses, doctors and clergy who want to learn more about end-of-life care. Recently, a local rabbi spent a month-long internship with one of our hospice chaplains to expand his knowledge and provide better support to patients.
What are some of Hospice of the Valley's future plans in regard to Jewish seniors?
Hospice of the Valley is working with the National Institute for Jewish Hospice to further support the work we currently do in caring for Jewish seniors and their families by becoming an accredited Jewish hospice.