Hospice of the Valley provides culturally sensitive care for every stage of illness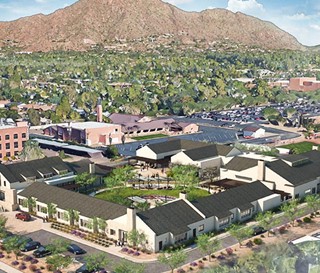 Modeling an innovative approach to comprehensive care, the Dementia Care and Education Campus is at 3811. N 44th St., Phoenix.
Jewish News
Jan 26, 2022
by Lin Sue Flood
Since 1977, Hospice of the Valley's experienced care teams have been tending to the physical, emotional and spiritual needs of patients and supporting their family members. As one of the largest not-for-profit hospices in the country, HOV provides a safety net for those with no insurance, turning no one away for lack of financial resources. Its mission has remained steadfast: Bringing comfort, dignity and compassionate care to our community.
As an accredited Jewish Hospice, the agency has been recognized by the National Institute for Jewish Hospice for educating care teams about Jewish culture and values, integrating Jewish medical ethics into care and teaching traditional aspects of Jewish grief.
"Hospice of the Valley takes great pride in tailoring care to best meet individual needs," said Rachel Behrendt, senior vice president of operations. "It's reassuring to Jewish families to know that we have rabbis on our staff; provide kosher meals in our inpatient care homes; and partner with Kivel Campus of Care and wonderful volunteers to provide bedside Shabbat blessings in our inpatient care homes."
HOV provides much more than hospice care. It also provides services to help families earlier in the continuum of care, long before hospice is needed. These are some of the innovative programs unique to Hospice of the Valley:
• Geriatric Solutions: a home-based primary care for home-limited patients who find it hard to get to their doctors.
• Arizona Supportive Care: helps those with advanced illness manage symptoms and access community resources.
• Supportive Care for Dementia: a free, in-home service that helps patients and families meet the challenges of living with dementia.
Like its hospice care, all of these programs offer 24/7 support by phone or nurse visit, even in the middle of the night, giving families peace of mind.
Enhanced Support for Families Living with Dementia
It may come as no surprise that the incidence of Alzheimer's disease and other dementias is extremely high in Arizona, one of the top 10 states with large elderly populations. By 2025, more than 200,000 cases will be diagnosed in our state. Whether it's a family member, friend or colleague, many of us will be touched by this challenging condition.
There has never been a more critical time to expand services to care for these patients and support stressed family caregivers. Hospice of the Valley's new Dementia Care and Education Campus will improve quality of life for patients and families, inspire careers in dementia care, and help build a workforce for the future. This innovative community resource is an extension of HOV's dementia care programs. Comprehensive support is provided to people with all stages of the condition, well before they need hospice services. They will receive individualized care that engages the senses, eases anxiety and creates moments of joy. Vital education and resources are brought together in one place to help families navigate the dementia journey with comfort and dignity. HOV invites the community to explore the campus and utilize all it has to offer. From specialized care and education about best practices to caregiver support and volunteer opportunities, there is much to learn and experience.
Opening in phases in February, the campus features:
An adult day club that provides stimulating programs and spurs meaningful interaction with preschoolers in the adjoining child center.
A small assisted living center that serves residents living with any stage of dementia.
A hospice inpatient care home for patients with more advanced stages.
A state-of-the-art community education center that offers workshops and interactive skills labs for both professionals and family caregivers.
A Memory Café, where people with dementia and their care partners can relax and share experiences.
A garden courtyard, a dementia-friendly green space in the heart of the campus, allows for safe walks, quiet reflection and exploration.
"We want people to know it's possible to live with dementia and still do many of the things they love," explains Hospice of the Valley Dementia Program Director Maribeth Gallagher. "They can still have connection and experience joy. We want to teach families to celebrate the loved one who is present now, along with the person who existed in the past."
HOV's community programs include grief support for adults and children; assistance with healthcare decision planning; and a senior placement service that helps locate living arrangements for those who can no longer manage on their own — all provided at no cost to families. In addition, Hospice of the Valley has more than 2,000 volunteers supporting patients with their kindness and companionship, brightening days and lifting spirits with pet and music therapy visits. Volunteers also visit veterans and first responders to honor them for their service. JN
Lin Sue Flood is Hospice of the Valley's community engagement director. The Dementia Care and Education Campus is located at 3811 N. 44th St. in Phoenix. For more information, call 602-636-6363, email DementiaCampus@hov.org or visit the Dementia page of hov.org.