Hospice of the Valley offers support in Fountain Hills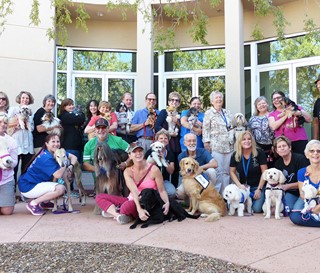 The Fountain Hills Times
January 4, 2019
By: Linda McThrall, Special Publications Editor
Did you know that Hospice of the Valley provides grief support to anyone who needs it in the Valley?
The support groups are free and open to those who are grieving.
The grief support is only one aspect of programs and services offered by HOV, founded in Phoenix in 1977.
Lin Sue Cooney, director of community engagement, described HOV as a group of tight-knit, goal-oriented people who believe in the mission of the non-profit organization.
"All of our programs are designed to serve the family and the patient at the end of life," she said. "We all have the same desire to help others."
HOV was started by volunteers – two nurses and a minister. It now has 2,100 volunteers and 1,400 employees. It also features 120 pet therapists, including a miniature horse and Cooney's own standard Poodle, Max.
"Our pet therapy program is very special," Cooney said. "Max was a natural for the program. When my little boys would sit on his back and open and close his eyes and just play pretty roughly with him, Max just took it."
She and Max were trained together first so Max could become a therapy dog. They then went through HOV's program to meet the specific needs of patients.
"Our pet therapy and music therapy programs are unique," Cooney said. "Music therapy can work wonders with dementia patients. It is really beautiful to see someone who has dementia light up when they hear a song they recognize from their past."
Hospice care is covered by Medicare. In the event someone reaches end-of-life before the age of 65, other insurance can help with expenses.
HOV has a nationally recognized pediatric hospice and palliative care for little ones with life-limiting conditions.
"Because we are a non-profit, we do not turn anyone away," Cooney said. "We are here to serve."
Cooney explained that HOV's philosophy is to provide comfort and dignity to those reaching the end of their lives.
"We walk the journey with the patient and their families to make the experience as comfortable and comforting as possible," she said.
HOV has case managers throughout the Valley, including Fountain Hills. Megan VanOrt is the nurse case manager serving Fountain Hills.
She provides in-home care and support to hospice and Medicare patients.
"My main focus is educating my patients, along with their family members and caregivers on disease progression and how to provide comfort and alleviate symptoms," VanOrt said.
She said she had been personally touched by hospice care when her father was in a program. She was nine at the time.
"I remember her (the hospice nurse) coming to see him at our home, and reassurance, knowledge and love she shared with all of us," VanOrt said.
For more information about Hospice of the Valley, visit hov.org or call 602-530-6900.