Hospice of the Valley chaplains bring spiritual comfort to Hispanic patients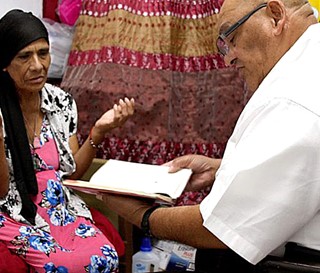 The Foothills Focus
December 13, 2019
By Lin Sue Cooney
When Cristiano Artigas visits patient Maria Estrada Hernandez at her west Phoenix home, the Hospice of the Valley chaplain has one goal: To move her focus away from her pain as he comforts her and prays for her in Spanish, their native language.
"How is your heart?" he asks her. "Spiritual support is very important; without it, we're empty… I'll sing for you like I always do."
"Oh, how beautiful!" exclaims the 63-year-old mother of eight with 21 loving grandchildren.
The Mexican native is in awe as Artigas sings "Pescador de Hombres," said to be Pope John Paul's favorite hymn.
When her family reached out to Hospice of the Valley, Hernandez had no idea what to expect. She especially did not expect that a Spanish-speaking chaplain would be part of her care team. Artigas is helping change that for the not-for-profit organization, which has never turned anyone away in 42 years.
"In the Hispanic community, this concept of hospice care with spiritual support is new," he tells Hernandez. "As a not-for-profit, Hospice of the Valley has the ability to support the Hispanic community, with or without insurance. We feel happy we can support these families."
And supporting patients like Hernandez often means being culturally sensitive— not only speaking Spanish– but understanding that Hispanic families often misunderstand what "hospice care" means. Many falsely believe that hospice is a "place" patients go to die… rather than a "philosophy of care" that helps patients in the home and supports family caregivers. Artigas and other bilingual chaplains at Hospice of the Valley, are in a unique position to correct that misperception.
Born in Nicaragua, Artigas did his studies in the U.S. He has a bachelor's degree in teaching, a master's in theology and a doctor of ministry. He moved to Phoenix to start a Hispanic ministry and is a pastor at Santo Tomas Lutheran Church. The Desert Storm veteran and former Army chaplain was recruited to Hospice of the Valley 16 years ago by Jean Marie Stockton, director of clinical services in the West Valley.  
 "Cristiano is all about a deep connection to the patients and families he serves. I have seen him in action and people immediately sense his compassion and concern for their well-being. He uses his singing to soothe and inspire."
That soothing effect was evident from the moment 66-year old Artigas greeted Hernandez, one of about 1,500 Hispanic patients served by Hospice of the Valley.
As Artigas explains, "Our job is not a job, it's a calling."  
It's a sentiment shared by all Hospice of the Valley chaplains, including David Kaminski, who agrees that being bilingual is critical to reaching families who say Spanish is their first or only language. "It's a privilege to comfort them in such a time of need. Discussions of this tender nature are more meaningful when they hear it directly in their own language."
Maria Denneny, is also bilingual and bicultural.
"I love being able to provide support when families are facing a crisis or at the time of death, or grieving the loss of a love one," she says. Denneny, who has been with the agency for 14 years, and also teaches "Muerte, Religion y Espiritualidad" to Spanish-speaking volunteers who provide patient companionship to patients.
The way she sees it, "Doctors and nurses take care of the body, chaplains take care of the mind and soul."