Hospice of the Valley Builds Premier National Reputation With Palliative Care Fellowships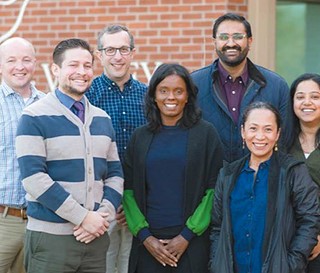 Front (left to right): Shawn Abreu, Lalanthica Yogendran and Kristina Balangue. Back (left to right): Jon Mark Shillington, Dr. Ned Stolzberg, Nav Gill and Prachi Aggarwal, Stolzberg, executive medical director at Hospice of the Valley, is pictured with some of this year's palliative care fellows.
Healthy Cells Magazine
March 2020
by Lin Sue Cooney
Never, ever underestimate the power of sharing. If you take the time to explain what you know–or spend some time show­ing what you do–it can literally change lives.
In 1993, Dr. Ned Stolzberg was a first-year resident at Phoenix Baptist Hospital when he had the opportunity to spend three days working in a Hospice of the Valley inpatient care home. "I knew noth­ing about it." our executive medi­cal director recalled, "but after this experience, hospice seemed like the kind of care I'd want to give." After many years running a private practice, and seeing firsthand how Hospice of the Valley cared so well for his own parents, "I decided to take the plunge in 2007." He joined the agency to follow his passion in hospice and palliative care.
That's one of the reasons Dr. Slolzberg and Hospice of the Valley believe so strongly in collaborating to create palliative fellowship pro­grams throughout the Valley.
"There's a shortage nationwide; a lack of people trained in hospice and palliative medicine. The fellow­ships provide a pipeline of doctors who are trained in palliative care ­how to talk about prognosis, how to address specific symptom needs, how to come up with a good treatment plan for end-stage chronic diseases," he said. "It's part of our education mission."
Medical education entails four years of college, four years of medical school, plus three to seven years of internship/residency. Fellowship is an extra post-grad year of intensive training in the specialty. After completing this, the fellows can gain board certification in hospice and palliative care. "Multiple folks who are working here have come through one of our affiliated fellowship programs," Dr. Stolzberg noted.
Hospice of the Valley supports three adult, one pediatric and one nurse practitioner pallia­tive care fellowship. Here's the breakdown:
Two adult palliative care fellows each at Mayo Clinic, the campus that houses our Sherman Home; St. Joseph's Hospital and Medical Center; and at Banner Health/VA.

One pediatric palliative care fellow at Phoenix Children's Hospital.

One nurse practitioner palliative care fellow at Mayo Clinic.
Several Hospice of the Valley physicians serve as key faculty for some of the programs, including Drs. Gillian Hamilton, Gobi Paramanandam, Chikal Patel and Stolzberg for the adult fellowships. The pediatric fellowship is overseen by three of our physicians: Tressia Shaw (program director), Wendy Bernatavicius and Billie Winegard. Numerous Hospice of the Valley doctors and NPs working on our home and inpatient unit teams volunteer their time to precept fellows when they train with the agency. Starting this summer, we're assisting HonorHealth in launching a new program, increasing the number of adult fellowships to four and bringing the total number of fellows to 10.
"We funded the start of the Mayo and St. Joe's fellowships and now, the HonorHealth fellowship," Dr. Stolzberg said. "We've been working very closely with HonorHealth on a number of programs to support their inpatient and outpatient palliative care and their discharge plan­ning. The new palliative care fellowship is a natural fit because of some of the work we're already doing with their chronic-disease patients. We've been helping them with program design and curriculum design and financial support, and we'll be ready to go in July 2020."
All fellows rotate with Hospice of the Valley, working both with our home teams and in one of our nine inpatient care homes, where patients get round-the-clock care by hospice physicians and nurses. Meanwhile, the pediatric fellow at Phoenix Children's works with chronic and terminally ill pediatric patients at the hospital and at Ryan House.
"It's a very robust amount of training," Dr. Stolzberg said "Having this many opportunities in a city like Phoenix, it's hard to top."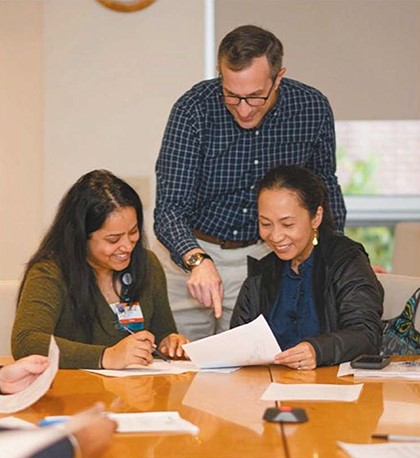 Dr. Ned Stolzberg, Hospice of the Valley's executive medical director, explains proper coding and billing to palliative care fellows Prachi Aggar­wal (left) and Kristina Balangue. Fellows participated in an audit exercise for the Phoenix Palliative Medicine Education Consortium. 
All fellows gather twice a month for a lecture series planned and hosted by Hospice of the Valley. The common curriculum ranges from Medicare reimbursement rules to palliative care for dementia patients. "We all get together and collaborate and learn things together," said Shawn Abreu, one of the Mayo Clinic fellows. "It builds camaraderie among the fellows."
St. Joe's fellow Prachi Aggarwal agrees. "It's a really good way to connect with the other fellows and the faculty," she said. "It's super helpful."
Dr. Stolzberg is happy to be a resource for the fellows and to see the fellowship programs expand. ''These fellowships provide a future workforce and define us a premier hospice nationally," he said. "The more providers we can train, the better off the care we all receive, as we inevitably get older, from good physicians and NPs trained in palliative care who know how to talk to us, explain things and help care for us."
Hospice of the Valley services extend beyond the medical realm and many of our programs are for everyone–not just our patients and families. We invite you to attend our mindfulness classes, no-cost grief support sessions, special workshops, and educational presentations. To learn more about the programs offered by Hospice of the Valley call 602-636-2232 or visit hov.org.