Honor certified nursing assistants June 15–22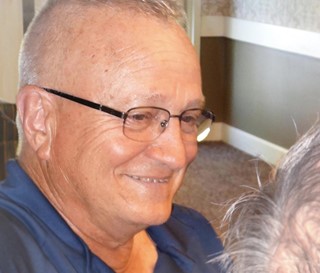 "My whole life has changed since I turned 60. I had a pretty mundane existence for 40 years. Now every day something new comes along!"
—James McGarrahan, certified nursing assistant, Hospice of the Valley
By Beverly Medlyn
Communications Director
The 40th annual National Nursing Assistants' Week coincides with Hospice of the Valley's 40th anniversary—coincidental timing that aptly fits the week's theme: Specialists in the Art of Caring.
Hospice of the Valley's certified nursing assistants (CNAs) are on the frontlines of care, giving physical, social and emotional support to our patients and families. One of them is James McGarrahan, based in the Northeast Valley.
Caregiving

leads to career change

Two years ago, James McGarrahan was working two jobs—in collections and at Starbucks—when he offered to help his grown children take care of their mother, who had terminal cancer.

"I saw myself in the role of spiritual adviser. But it didn't turn out that way," James said. He and his ex-wife still had a deep friendship. As the disease progressed, he quit his jobs and became her full-time, live-in caregiver, with support from their children and Hospice of the Valley (HOV).

One day HOV called to ask if it was ok to send a male CNA to the house. Markus Wahl reported for duty, and James observed Markus at work. "I heard a little voice inside my head say: 'This is what you're going to do,'" James said.

James—who had worked most of his life in manufacturing—had no background in healthcare or caregiving. But when he ran the idea of becoming a CNA by his family, friends and the HOV team caring for his ex-wife, everyone said yes—do it! He enrolled in community college and became certified. "There was no Plan B—there was only Plan A—to go to work for Hospice of the Valley," James said.
Finding
new meaning
In September 2016 James joined the HOV staff. He mainly visits patients at their homes, but does some work at group homes and facilities. Sometimes he and Marcus partner up to care for patients who need two people to assist with bathing and personal care.
On a recent afternoon James and Marcus were providing personal care to male dementia patients at a facility. One was a retired physician—an affable man with an authoritative presence. "When we arrive he's often sleeping and slow to perk up, but by the time we leave he's a new person," James said. As they sat on a bench conversing, James mainly listened attentively to his patient, whose words had no meaning.
Encounters like those make James' work meaningful and interesting. "Somebody once said to me, 'You have a thankless job.' I don't have a thankless job—I get thanks every day. I get it from patients and spouses and their kids. I know how they feel because I was on that side of things. Now I go home every night knowing I did something good."