Golf Tournament Supports Hospice of the Valley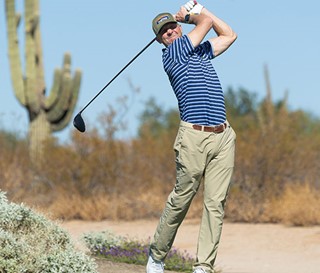 It was a perfect day to tee up some fun — and fun-raising — out at Grayhawk Golf Club's Talon Course in Scottsdale! The 2020 Hospice of the Valley Pro-Am Golf Tournament, presented by Cigna Healthcare of Arizona, raised over $31,000. This brings the 22-year total raised for Hospice of the Valley to nearly $883,000, helping ensure beautiful and loving care for thousands of patients and families who come to the not-for-profit agency in need of support. 
 This annual event, started by volunteer tournament chairman Jay Hoselton, sustains Hospice of the Valley's mission of bringing comfort, dignity and compassionate care to our community. "Oh, it's a great event and it's such a great cause," he beamed. "I'm proud and honored that we've held this for over two decades now — thanks to the ongoing generosity of sponsor Cigna Healthcare of Arizona."
 "Hospice of the Valley is amazing," said Donna Gallifant, Client Service Executive with Cigna. "We really appreciate everything they do for our community — and they are just phenomenal at what they do!"
The Oct. 29 tournament boasted a $10,000 professional purse and showcased top players from the Southwest Section of the PGA, including winner Dennis Downs, one of 24 pros. Taking first place among 24 amateur foursomes were David Baum, David Levan, Brent Tally and Charlie Von Arentschildt.
In a touching tribute, one of the foursomes honored the late Larry Mayhew, a longtime Hospice of the Valley board member and devoted golfer. The close friends created special signage on their golf cart featuring the message, "This round's for you!"
Bruce Moss first played in the pro-am golf tournament with Larry in 2012 and has looked forward to it every year since then. "We're here celebrating two of Larry's most favorite things to do: play golf and be charitable to Hospice of the Valley," Bruce reminisced. "He loved this place and we love and miss him."
This year's generous tournament sponsors are Cigna Healthcare of Arizona; Apria Healthcare; Imagine Technology Group/SHARP; Ricki Dee, John and Sarah Jennings; Lockton Cos.; Tim and Amy Louis, who played in memory of Dr. Tim and Julie Louis; Risas Dental and Braces; StateServ-Hospicelink; and TB Consulting LLC.
For more information on Hospice of Valley's programs and services, visit hov.org or call 602-530-6900.