Girl from Minnesota crosses the country to visit last child of the Orphan Train in Arizona
Claire Isaksen, 14, flew across the country to meet Victoria Moe, who was taken in by a priest's housekeeper when she was small.
The Arizona Republic
April 28, 2018
By Lin Sue Cooney
At Hospice of the Valley, we are privileged to serve some pretty amazing people. Every patient has a story, but the tale of 106-year-old Victoria Moe is truly remarkable.
So unique, that an eighth-grader from Minnesota flew all the way to Arizona to meet her!
Fourteen-year old Claire Isakson, a student at Christ's Household of Faith School in St. Paul, was doing research for the Minnesota History Day Competition. She spoke with a historian who told her about Victoria — the oldest known survivor of the Orphan Train— which carried homeless children from crowded cities along the East Coast to foster homes in the rural Midwest.
From 1854 to 1929, about 200,000 orphaned, abandoned youngsters or homeless youngsters were given new homes and families.
Claire sent Victoria a handmade card, then followed up with a phone call. The lively 45-minute conversation so moved Claire and her mom, they decided to meet in person. Claire even used baby-sitting money to buy her own plane ticket to Arizona.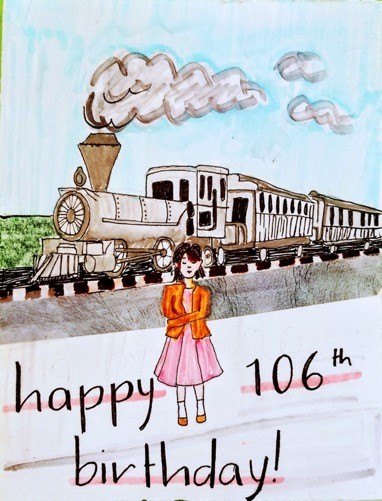 Claire sent this handmade card to Victoria before they met. 
She learned that the then-Victoria Gennaro was only 6 when she boarded the Orphan Train in 1918 to come live with the housekeeper of a Catholic priest in Easton, Minnesota. She arrived in very poor health, but soon thrived. "Life was a blessing," she says. "School was fun — and there was plenty to eat."
The little girl who didn't know a thing about her birth family grew up to touch the lives of thousands of other families when she became a nurse. Her last job brought her to Arizona, where she cared for newborns at St. Joseph's Hospital.
Victoria married and had two children — who gave her seven grandkids, 10 great grandkids and four great great grandchildren.
But her family grew again when she turned 99.
Thanks to Ancestry.com, she located a nephew in Seattle, who knew more about the birth family that gave her up almost a century ago.
He revealed that her parents were Sicilian immigrants who struggled to care for such a sickly baby shortly after arriving in Manhattan. As an act of love, they relinquished Victoria to the Foundling Home in New York — hoping another family could give her a better life.
And that's exactly what happened. Victoria was the only one to get an education and have a profession. None of her four birth siblings had those opportunities.
"Everyone else felt sorry for me when they heard my story," she said, "but I never did. My life has been full of way more good than bad."
And now Victoria's story of strength, optimism and courage will be told at the state History Day competition in Minnesota — the same place she departed the Orphan Train all those years ago. If Claire wins the state title, she'll advance to Nationals in Washington, D.C., in June.
"It was a one in a million chance to meet someone who actually lived what I read about in a text book," gushed a starry-eyed Claire. "It happened 100 years ago, but she made history came alive for me!"