Friends honor Scottsdale centenarian with a parade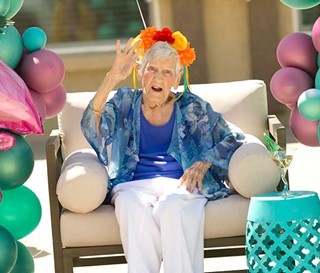 More than 20 vehicles lined up around the Greenway Home Care, an assisted living facility in southern Scottsdale for a luau-themed drive-by birthday parade for Opal Grandon, who turned 100 on April 21. Photo: Pablo Robles/Progress Staff Photographer
Scottsdale Progress
April 27, 2020
by Kristine Cannon, Progress Staff Writer
At 11 a.m. last Wednesday, more than 20 vehicles lined up around the corner from Greenway Home Care, an assisted living facility located in southern Scottsdale.
Friends, family and Hospice of the Valley staffers congregated to celebrate the 100th birthday of a special Scottsdale resident, Opal Grandon, with drive-by parade.
Grandon comfortably watched from her Hawaiian-themed, balloon-arched throne designed by Scottsdale-based event planner Nancy Mantei Events, and said the parade made her feel like a queen.
"She's an independent lady with old-school values, fun-loving and generous, was always there to help someone in need, loved to travel, saw many parts of the world. She lived life to the fullest, loves life. This is why she lived 100 years," said TR Wilt, Grandon's nephew, who, along with his wife Jane Wilt, attended the parade.
Grandon's hospice care team partnered with Greenway Home Care to throw Grandon the luau-themed celebration because she spent four months talking about having a luau for her 100th birthday.
"Opal and her sister, Garnet, traveled to Honolulu, Hawaii, for a vacation and spent approximately one month there," explained Samantha Teddi Deetz, a hospice licensed master social worker. "This is why a luau theme is so special to her and so meaningful as it reminds her of those happy memories."
The team organized the parade in less than four days and relatives in attendance included her nephews and nieces. 
"Unfortunately, due to the current COVID-19 virus and social distancing limitations, the group home has had to implement temporary visit restrictions in order to keep the staff and residents healthy and safe. Opal's Hospice of the Valley team felt that since this is such a monumental birthday, and she was so hopeful on having a specific themed party, that we could figure out a creative way to think outside of the box to make her dream come true," Teddi Deetz said.
Grandon moved into the group home in January, but her family hasn't been able to visit her.
"We miss seeing her, but are glad she is in a safe place and healthy," said Grandon's nephew, John Whitcomb. "We all try to call her on the phone to let her know we are thinking about her, and this birthday parade will be something she and all of us that remember for a long time to come."
According to TR, Grandon was an avid traveler and has "lived in more countries than most people." 
"She never married and had no children, so she spent many years living with and caring for her mother," TR said.
TR added that from the 1950s to the mid '60s, Grandon worked as a civilian employee for the Phoenix Police Department.
After her mother's death, she joined the U.S. Department of State and was assigned to posts and embassies around the world, including Afghanistan, Yemen, Vietnam, and Nepal.
"While stationed in Nepal, she decided she wanted a car but had to go to India to get one. So, she went there to India and drove the car back from India by herself. Mind you this was in the 1960s, way before women's lib," said Jeff Wilt, another nephew.  
He added that Grandon has shared stories of being shot at while in a U.S. Air Force plane flying over the Great Wall of China and of a rhino charging after her while she was riding elephant in Nepal.  
"She was also evacuated from Saigon just three days before it fell to the Vietcong in 1975," Jeff said.
While on vacation, Grandon would travel to countries she hadn't been assigned to; but it was her vacation to Hawaii with Garnet that resonated with her. 
"One of Opal's fondest memories she has shared with us was going to a luau with her sister on this trip and experiencing the Hawaiian culture," Teddi Deetz said.
This parade was the first organized by Hospice of the Valley.
Lin Sue Cooney, hospice director of community engagement, said the community has been "wonderful," creating handmade cards to cheer their patients, as well as donating hand sanitizer, sewing masks for visiting family members, and delivering Easter meals.
"We are so grateful for everyone's kindness during this uncertain time," Cooney said.
And Grandon's family is grateful for Hospice of the Valley.
"As a family, we want to thank the staff at Greenway Home Care and Hospice of the Valley for helping make this happen. Also, many thanks to friends and family who joined in the celebration," said Pam Ruffer, Grandon's niece.