Community Philanthropy Truly Changes Lives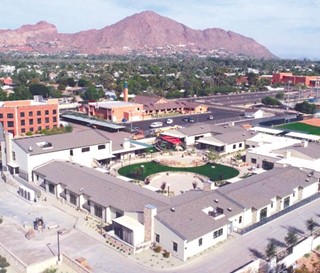 Hospice of the Valley's Dementia Care and Education Campus is opening soon at 44th Street and Indianola Avenue in Phoenix.
City Sun Times
Jan 1, 2022
by Debbie Shumway
We are humbled by the outpouring of community generosity that helps expand our nonprofit mission. Since 1977, we have remained focused on bringing comfort, dignity and compassionate care to our community, and we could not do it without the people, businesses and volunteer groups who give their time, talent and donations.
This past year, Hospice of the Valley was privileged to serve over 22,000 people and provide more than $10 million in charity care and community support. Individuals, foundations and corporations make it possible to serve all who come to us — regardless of insurance coverage or financial means — and to create innovative programs to meet the needs of patients and families before they are ready for hospice care.
These programs include our home-based primary care practice that cares for high-risk patients with advanced illness who are unable to get to their physician. Our phone and visit support programs provide care for those dealing with chronic illnesses like cancer and lung disease. During the year, we were able to expand our Supportive Care for Dementia program, offering this service at no charge, thanks to a federal grant that allows us to serve more families living with Alzheimer's disease and other dementias.
With the support of our community, we are very excited to open our Dementia Care and Education Campus in early 2022. This campus will be a place where people can live life to the fullest and receive exceptional care for all types and stages of dementia, with an emphasis on helping family caregivers navigate this challenging condition and educating the next generation of dementia care providers.
We are thankful to everyone who donates to our four White Dove Thrift Shoppes (www.whitedovethrift.org), which support our charity care, and to our loyal shoppers and amazing volunteers! So many companies make a difference,  sponsoring sales events and holding donation drives.
The talent and kindness of our volunteers is such an important part of our mission. Our volunteers support patients in their homes or in one of our inpatient units. They make lap blankets, quilts and even sensory pads for patients living with dementia. They collect donations for patient care packages. All of these volunteers and many community service groups contribute in unique and meaningful ways to support our mission.
Each year, we are amazed at the entrepreneurs who spearhead creative events to give back to our agency. From a classic car show to golf and fishing tournaments, from bake and garage sales to a drive-in movie night, these "fun-raisers" help fund community programs like grief support for children and adults, and music and pet therapy that brings joy and comfort to our patients.
We appreciate the support from Valley grocers and community donors who provide food gift cards and other essentials for patients in need; and the Thanksgiving meals donated by families who remember what it is like to face health and financial distress. Hospice of the Valley also is fortunate to partner with foundations that work with our care teams to fulfill our patients' special wishes, creating joyful experiences and memories for their families.
As we approach the holidays, we are grateful for the giving spirit that continues to flourish in a community that is supportive of nonprofit organizations. We are honored to be a part of this community.
Debbie Shumway is executive director of Hospice of the Valley. To learn about programs and services, call 602.530.6900 or visit www.hov.org.