ASU students use the power of music to improve health in hospice care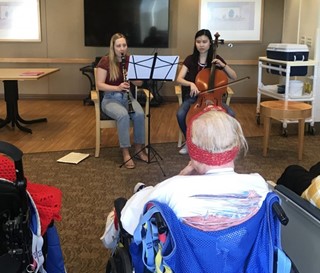 ASU juniors Megan Taylor and Sabrina Leung play music for patients at Hospice of the Valley in Phoenix, Arizona, on Saturday, March 23, 2019. Photo courtesy of Lynn Tolmachoff
The State Press
April 5, 2019
By Farizah Ali
Two years ago, ASU science students and musicians Megan Taylor and Sabrina Leung had an idea: To bridge the gap between music and medicine by providing a creative way to help those with serious illnesses.
From that idea, their club Music Meets Medicine was born.
Taylor, a junior majoring in biological sciences and Spanish who plays clarinet, and Leung, a junior majoring in biochemistry who plays cello, started the club a year ago, linking up with a local hospice unit to send volunteers to play music for patients in palliative care.
Every Saturday, the club's six or seven regular volunteers perform at Hospice of the Valley's Friendship Village palliative care unit in Tempe – a facility that helps residents control symptoms until they can return home or be cared for in another setting.
The two friends, who have known each other since middle school, both plan to enter the medical field after graduation and said that the experience they gain from the club has given them a better understanding of the medical field.
"It's great clinical experience for those who want to go into the medical field," Taylor said. "Seeing the impact on individual residents' moods has been rewarding."
Palliative care refers to providing medical care for patients with terminal or life-limiting illnesses. It can include support for people with illnesses, including cancer, dementia, Parkinson's disease and other serious conditions.
For people struggling with these types of illnesses, music can act as a powerful tool to bring comfort and tranquility during a time of struggle, which is how the club aims to make a positive impact on the residents' lives.
Often, the musicians in the club play classical music to soothe residents who may be in pain. The program's volunteers play a variety of instruments, including violin, flute and ukulele.
For memory loss patients in particular, volunteers try to play music that was popular when the residents were young adults to help improve their mood and spark their memory.
Lynn Tolmachoff, the eleventh-hour companion program manager at Hospice of the Valley, trains and coordinates volunteers to assist with palliative care and was the point of contact who the two students reached out to when they were first forming the club.
Tolmachoff said that having the musicians in the care unit has been impactful, and residents have responded positively, looking forward to the weekly music performances.
"The feedback I've gotten from the residents is that it's awesome," she said. "Other staff members have shared at meetings the positive reactions that residents have and the impact it has on their mood."
She said she has witnessed residents feeling calmed by the music and actively singing along.
There is a wealth of research on music therapy in hospice settings. The qualitative data shows positive impacts on pain, anxiety, energy levels, mood and more.
Music offers unique benefits for memory loss patients too. As Tolmachoff explained, "patients who are nonverbal will sometimes sing along to the music because it touches a different part of the brain."
Several studies show the evidence of this interesting phenomenon in patients with dementia. Despite neurological issues, patients unable to speak are able to sing, especially to familiar songs.
Overall, Music Meets Medicine aims to use music as a tool to improve the health and well-being of people who are struggling.
"It's so much fun for everybody, both the volunteers and residents," Leung said.
Taylor and Leung are working to expand the reach of the club and bring more musicians into the program.
While the club's visits to the hospice unit mostly involve the group splitting up and doing separate performances, Taylor and Leung said they are trying to develop more group musical performances that combine the different instruments into one ensemble.
The two students said that by sharing their musical talents to help the residents, the club members have found a sense of fulfillment.
"We always leave in a better mood after volunteering," Taylor said.