Adapting Hospice Care During COVID-19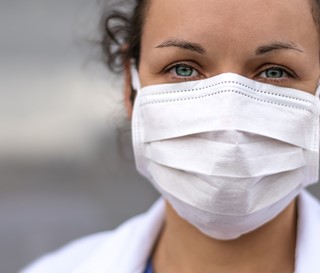 www.partnersinleadership.com
July 1, 2020
by Anique Mautner
Deb Shumway, CEO of Hospice of the Valley, tells how a strong culture helped her staff care for patients amid uncertainty, fear, and daunting challenges.
"If you are cared for by Hospice of Valley, nobody is ever alone." This is how people describe Arizona's leading provider of end-of-life care, a clear reflection of its mission to bring comfort, dignity, and compassionate care to its community.
Then the COVID-19 pandemic hit, transforming hospice and palliative care overnight. In early March, cities across the U.S. announced emergency shutdowns to non-essential businesses, stressing the severity of the pandemic.
"We have work to do to get ready for this pandemic," CEO Deb Shumway thought. Despite the tribulations the organization experienced from the sudden disruption, Shumway believed the organization's mission was its north star to guide them through the transition without losing the quality of care the patients depended on.
This is how she and her team accomplished that.
The Unexpected

Like most organizations, there were no policies and procedures in place to account for social distancing and isolation. There was not enough personal protective equipment — masks on hand — and it was incredibly challenging to obtain sufficient supplies. They weren't on an allocation list since hospice nurses do not typically wear N95s and other specialized PPE items. She wondered if they would need a COVID-19 unit. And if so, how that would impact employees. The agency needed to organize quickly to provide care while keeping staff safe.
Hospice of the Valley did have one advantage: They were ready from a cultural perspective.
"Going into this pandemic, we had a strong culture foundation," Shumway says. "First, the hospice's mission attracts the kind of person who wants to serve others. This mindset is our bedrock. And from there, we've put in the work, engaging with Partners In Leadership for a decade to help us take the culture to the next level."
The culture management work done prior to COVID-19 included defining their culture; identifying cultural beliefs like "Think Yes and Deliver Wow," and ensuring everyone, including new staff, understood how to demonstrate this.
"We train new hires to call a leader before ever saying no to a patient request. We are an army of people here and when we work together, we can make wishes come true. Part of the culture is communicating that folks have a large support system."
The culture emphasizes accountability, trust, and care. Leaders in the organization hone culture management skills, reinforcing the desired culture by telling stories about how people demonstrate the culture beliefs.
Critical to culture management is creating clarity and focus around organizational priorities—a practice that eludes many leaders even in the best of times. Not Shumway. She leveraged years of experience to align the organization around critical priorities.
She transformed her office into a war room. At the end of each night, she and the leadership team identified the top three priorities the organization needed to execute the next day. This simple practice was a powerful way to navigate the team through the uncertainty. It's hard to plan far ahead when things shift constantly; but without focus and direction, employees feel adrift. Being clear on what needs to happen in the short term aligned everyone in a purposeful way.
Building Trust

If communication with the staff was already a priority before, it became vital in the early stages of the pandemic when the not-for-profit hospice had to adapt quickly to meet the needs of patients in profoundly new ways.
Shumway and the leadership team listened to fears among the staff openly and without judgement. To assuage fears, they communicated information from the CDC and fielded questions about how new regulations applied to the hospice. They shared stories with the staff to keep them connected to the mission and their impact in family's lives. And Shumway and her team responded by adapting the systems in place to keep staff safe.
They quickly operationalized new procedures to protect staff, creating guidelines in the computer system so staff knew how to screen patients before they went to a home. If employees were exposed to COVID-19 or felt symptomatic, there was a notification system in place to expedite screening. They transformed two inpatient units into COVID-19 units. They identified patients in the system who had tested positive for the virus or were waiting for a test result so staff knew what PPE to wear.
These systems and processes aligned with the culture they already had in place: That the hospice cared about the safety of its staff as much as its patients and families.
This concern extended to payroll. Shumway collaborated with payroll and supervisors to provide supplemental pay to certified nurse assistants (CNAs) who were unable to assist families that were afraid of coming into contact with outsiders, which meant they would not get their hours.
This was an important message to reassure all employees that they didn't need to worry about their jobs. The staff was needed more than ever and creating peace of mind allowed them to care for patients and their community.
"We reiterated that message on every single call, every week," Shumway says. "Everyone was in a state of worry, and it was important to reassure everyone that 'Whatever you need, we can do it together.'"
Rising Above

Disruption to the status quo makes room for innovation. The teams that launch into innovation are the ones that already practice accountability in their daily work.
According to the New York Times bestselling book The Oz Principle, accountability is the "personal choice to rise above one's circumstances and demonstrate the ownership necessary for achieving desired results." When we harness the power of accountability, we see today's disruption as an opportunity to drive greater operational efficiencies, unleash creative problem solving, and accelerate innovation.
Hospice of the Valley used its culture, centered in accountability, to quickly innovate new ways of fulfilling its mission of excellent patient care.
When the hospice heard of patient families that were unable to purchase groceries due to quarantine measures, the Director of Volunteers and the Community Liaison Director created a service to fill the gap. Staff would email a patient grocery list and the hospice mobilized volunteers to shop and deliver groceries to the family's front door.
In another case, a patient wanted mashed potatoes, which were hard to come by. The team scooped mashed potatoes from frozen meals to satisfy the patient's request. "We'll make this work," Shumway shared. "We know how to innovate."
Rising above circumstances meant relying on each other in the hard times. "I know this is my job," a nurse said. "But sometimes I sit in my car and cry, a bit worried. And then I get out, knowing that I am needed and am privileged to provide this care."
Early on, when the hospice converted two inpatient units into COVID units, they had regular calls to check in with the nurses caring for the patients. These were difficult stories to process. Patients were transferring from hospitals to the COVID-19 units in intense respiratory distress. Some families were afraid to visit because of their own health conditions. Nurses described how they set up video conferencing calls by patients' beds and the nurses would stay with the patient so the family could be present when their loved one passed away. The patients knew they were not alone. And the intensity of that was powerful.
"This is the type of care our clinical teams always provide; in this pandemic, they're rising to new occasions in a profound way," says Shumway.