89-year-old Chandler artist inspires her hospice team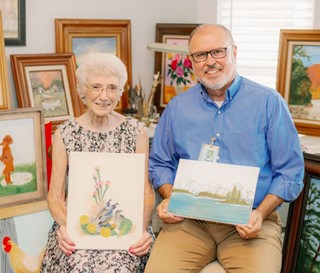 Avinell MacDonald and her protégé, chaplain Ken Collins.
queencreeksuntimes.com
Oct. 24, 2022
by Lin Sue Flood
Avinell MacDonald isn't kidding when she says "it's never too late to try something new." 
She was 60 years old when her husband asked if there was anything in life she wanted to do, but hadn't tried. MacDonald chose two things: play the piano and take up painting. Before she knew it, he'd bought her a piano and paint supplies.
MacDonald learned to play a few tunes before giving the piano to her granddaughter, but has never put down the paintbrush in nearly three decades. "I didn't think I had any talent," the Hospice of the Valley patient confessed, "but my husband had faith in me, so I kept going. I bought some books and taught myself to mix colors and suddenly, I just took off."
Her determination ignited something in hospice chaplain Ken Collins, who is quite possibly her biggest groupie. At 63, he decided to give painting a try.
"Avinell is one incredible artist and one incredible person!" Collins said. "The beauty of her paintings is only matched by the beauty of her inspiring life. She's my biggest encourager and has unleashed in me a long-held passion."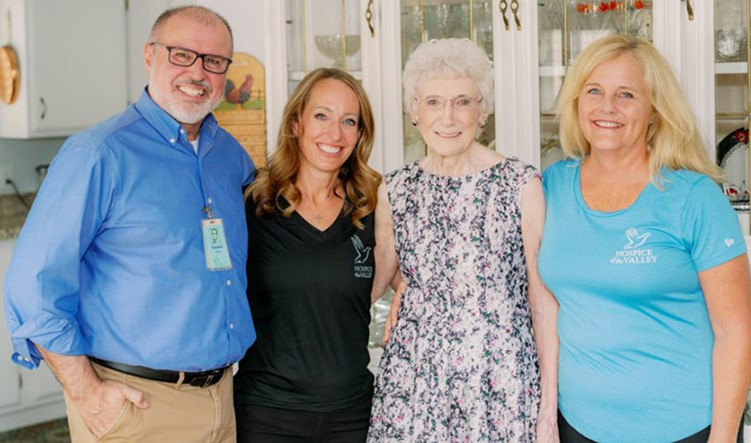 Avinell MacDonald says her hospice care team are her biggest fans.
The two enjoy sharing their latest projects and discussing color and technique. "I never dreamed what I was doing would get him so excited," MacDonald laughed. "He's got talent and if he pursues it, he's gonna be a lot better than I am someday!"
The 89-year-old loves sharing the framed collection that fills her Chandler bedroom studio. Her hospice care team, which includes Collins, nurse Cheryl Adams and social worker Susan Dabreo, enjoy watching the creative process unfold, as MacDonald transforms a blank canvas into a beautiful landscape, floral arrangement or family portrait.
Right now, she's painting a mountain scene from one of her favorite photographs. "I used the same colors of the photo, but it doesn't suit me, so I'm going to change them," she quipped. "Don't know what I'll end up with, but when I finish, I hope I like it."
"We always say that hospice care includes making the most of life, enhancing it with what you love," Collins said. "With Avinell, that means nurturing her artistic side too."
Her fan club can't wait to see what she paints next.
"They all encourage me, especially when I mess up. They're just so kind and generous and don't make me feel old," MacDonald joked. "I'll be 90 in a few months, and look at me. I'm still at it!"