5-pound bundle of joy steals heart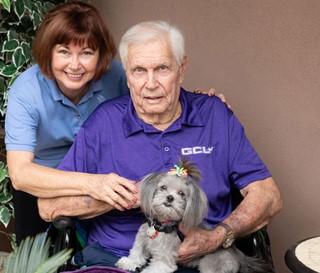 Volunteer Diane Bykowski and her therapy dog, Mia, visit with Bruce Moses once a week. The pet therapy team is part of Hospice of the Valley's Pet Connections program, offered at no cost to patients.
Healthy Cells Magazine
February 19, 2020
by Lin Sue Cooney
Bruce Moses may be battling heart disease, but he is not doing it alone. By his side, is his devoted daughter. Looking after his medical and spiritual needs, is his dedicated hospice team. And to nurture his emotional well-being, is a 5-pound bundle of joy who has stolen his heart.
Recently, Bruce awoke thinking it was just another Monday at the Scottsdale group home where he has lived since late 2018. But it's not. Mia is coming to visit.
Adorably cute, impeccably groomed Mia has been a Hospice of the Valley therapy pet for a year — about half her life. Weighing just 5½ pounds, she's the perfect lap dog. Her breed — a cross between a Maltese, Japanese Chin and Papillon — is known for its calm, even temperament and captivating personality.
Bruce loves dogs, but the 88-year-old is no longer able to care for his dog Happy. Losing his wife of 66 years took a big toll on his health— and now, due to heart disease and other complications, he's mostly confined to a wheelchair.
When Bruce first moved into his group home, his daughter, Cathey Moses, was impressed by a lovely nurse who happened to be caring for another patient at the group home. Turns out, Gina Davis worked for Hospice of the Valley… and Cathey's first thought was "I want her."  
Cathey says once she put her dad in Hospice of the Valley's care, he was surrounded by a team that loves making him smile.  In addition to nurse Gina, he enjoys visits from his social worker Joy Martin and a volunteer pet therapy team: Mia and her energetic two-legged partner, Diane Bykowski.
On this ordinary Monday afternoon, Cathey, Gina and Joy all show up together… so Bruce knows something is up, but has no idea what it could be.
He's asked to close his eyes for 20 seconds. Diane quickly sneaks in and places Mia on Bruce's lap. He opens his eyes and flashes a big smile. Surprise!
As Mia snuggles close, Bruce is touched by the tenderness he feels--  he simply can't stop petting her. These delightful weekly visits last anywhere from 10 to 45 minutes but the cheer lasts all day long. "She's just a nice little dog!" he sings with elation.
That joy is a beautiful reward for his family and care team. "It's good to see him laughing so much today," Gina adds. "It's a ray of sunshine for him, for sure."
"It just lights him up," Joy adds, while daughter Cathey smiles with gratitude. Heart disease may have changed her father's life, but Mia's happy tail and affectionate kisses, bring him a simple pleasure that means so much.
HOV's Pet Connections program has about 90 pet therapy teams, and small dogs are especially in high demand. To join out volunteer program, reach Ann Roseman at 602-287-6660 or aroseman@hov.org.