112 classic cars and 1 cause: Hospice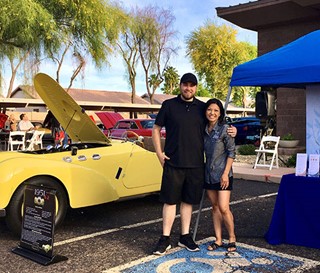 Griffin Perry and Noeleen Rivers, community coordinator at Hospice of the Valley, enjoy Classic Cars for a Cause.
The Arizona Republic
May 29, 2021
by Lin Sue Cooney
At just 22, Griffin Perry is already a Renaissance man — an event planner, a car enthusiast and an assistant property manager.
The Basha High School graduate also is a bona fide philanthropist, dedicated to supporting blood banks and Arizona's community hospice.
In just four weeks, Griffin organized Classic Cars for a Cause to benefit Hospice of the Valley patients and families in financial need. More than 110 one-of-a-kind cars participated in the May 1 event at Cooper Crossing Executive Suites in Chandler, where he works.
"I think we had $30 million in the parking lot," he said. "We could have doubled or tripled that if we had more time to plan."
Griffin, along with his parents, Glenn and Norma Perry, and sister, Taylor Wilson, recently presented a $6,439 check to Hospice of the Valley. And the Queen Creek family already is revving up for next year's show. "We want to do this annually," Norma said.
Their inspiration? Griffin's paternal grandmother, Billie Jean, who died last March under hospice care in Pennsylvania.
"I was moved by the compassionate care that they provided my grandma in her last weeks. Hospice care is God's work. I saw it firsthand, it felt like they were holding our hands," Griffin said. "That's when I decided to have the car show. I had heard a lot about Hospice of the Valley and knew it was a nonprofit. I wanted to do something locally."
Griffin's dad has been in the Jaguar restoration business for 30 years. The Perrys drew support from their wide network of classic car owners who were eager to support Hospice of the Valley's mission.
Admission was free. They raised money through car entry and vendor participation fees, raffle tickets and generous donations. Helping in the background was Noeleen Rivers, Hospice of the Valley's community coordinator.
"It was evident that car enthusiasts have a devout following. They love the social aspect that a car show brings and also love coming together for a cause," Noeleen said. "I had the privilege of thanking each and every one one of the entrants, and I enjoyed hearing the stories of their loved ones who were connected to the cars, our agency or hospice in some way."
Proceeds from the car show will go to help Hospice of the Valley patients and families without insurance or financial resources. As a not-for-profit agency, no one is turned away who needs care.