Support for grieving children offered by New Song Center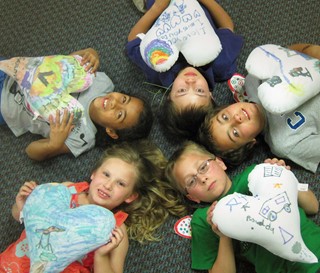 New Song Center for Grieving Children will conduct a family orientation from 2–3 p.m. Dec. 2 at St. Barnabas Episcopal Church, 6715 N. Mockingbird Ln., Paradise Valley 85253.
A program of Hospice of the Valley, New Song offers grief support sessions for children, teens, young adults and their adult caregivers. Participants meet in age-appropriate groups at St. Barnabas. There is no charge.
Advance registration is required: (480) 951-8985.
Megan Hodgins of Scottsdale participated in New Song with her two young daughters. "New Song was a safe environment for my family to cry, be angry, get out our frustrations and even laugh," she said.
Julie Alpert, a Phoenix mother of two daughters and a son, also attended New Song groups after her husband died suddenly of a heart attack in 2010. Her daughter Kate Alpert said, "When my family and I started New Song, I was 7 years old, and my father had just passed away. Being just 7 years old, I was devastated and confused why this had happened to me. New Song really helped me because it is a place where I felt comfortable talking about my feelings with the other people. We were separated into groups depending on our age, and that really impacted me because everyone my age has similar feelings and ideas going on in their mind. By the end of my time at New Song, I could talk to other people about what had happened to me and I felt a lot better with myself."