Hospice of the Valley among nation's best for service to veterans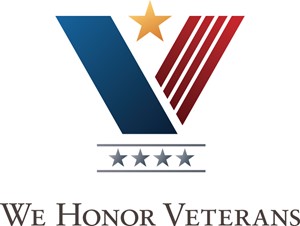 Hospice of the Valley has been recognized by the national "We Honor Veterans" program for increasing access and improving quality of end-of-life care for military veterans. One in four dying Americans is a veteran.

"We Honor Veterans" is a program of the National Hospice and Palliative Care Organization in collaboration with the U.S. Department of Veterans Affairs. The program provides four tiers of recognition to organizations that demonstrate commitment to serving veterans. Hospice of the Valley was recognized for providing excellent care at the highest level.

"Hospice of the Valley has long served and honored military veterans through our Saluting Our Veterans program," said Debbie Shumway, executive director, Hospice of the Valley. "Achieving this recognition strengthens our partnerships with other organizations that care for veterans and provides assurance about the quality of our care."
Launched in 2011, Saluting Our Veterans was designed to honor and thank military veterans for their service to our country, said Stacia Ortega, director of volunteer services, Hospice of the Valley. "Veteran volunteers make tribute visits wherever the patient lives, giving him or her the chance to connect and share stories with another veteran who understands," Ortega said. "The patient is honored with a ceremonial pin and branch of service flag."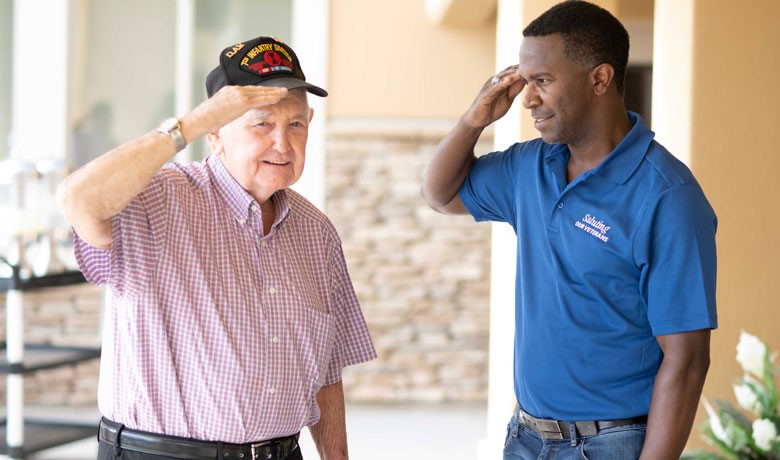 "During a Salutes visit, veteran volunteers take a moment to visit one-on-one with the patient, giving the patient a chance to connect and share stories with another veteran who understands," Ortega said. "The patient is honored with a ceremonial pin and branch of service flag." The visit takes place wherever the patient resides—a personal residence, facility or inpatient care home.

Nearly 2,300 veterans who are Hospice of the Valley patients have been honored by Salutes volunteers. Currently 43 volunteers representing every branch of service call upon patients. Salutes volunteers also participate in community veterans' events.
Learn more at: Salutes Page
The Legacy Corps program also supports military families by providing volunteer visits in return for incentives like a monthly stipend and college tuition credit.  Families are grateful for the companionship and respite, and volunteers enjoy the one on one experience of helping someone who once served our country.  This program is a partnership with AmeriCorps and Arizona State University. 
Learn more at Legacy Corps Page

For more information on volunteering at Hospice of the Valley, call (602) 636-6336 or email volunteeropportunities@hov.org.