Surprise Inpatient Care Home
We're
here

for you

When you need round-the-clock care, Hospice of the Valley has nine inpatient care homes located conveniently throughout the Valley to serve people in their communities.

Our Surprise care home opened in 2007 to serve one of the region's fastest-growing areas. The freestanding home is 10,000 square feet, with 17 private patient rooms, each with French doors that open to outdoor patios. The building is full of light and has a warm and comfortable atmosphere. A family room and kitchen serve as a gathering spot for families and visitors.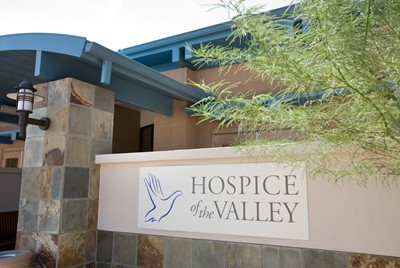 Stays in our inpatient care homes are short-term -- a transitional time to control symptoms until the patient can return home or be cared for in another setting.
Have questions about our inpatient services?  Give us a call 24/7 and we'll be happy to help.  
Call now: (623) 975-9292.
14066 W. Waddell Road, Surprise, AZ 85379
Mark C
★★★★★ Google Review
My Father just passed away earlier today at the Surprise Hospice of the Valley. I feel compelled to write tonight to thanks each and every caregiver who took care of my Dad. The quality of care along with the compassion and dignity with which he was shown was a true blessing to our family. Without exception, every person we had contact with at Hospice of the Valley was the epitome of kindness and professionalism. We trusted our most precious asset, our Father, to the care of these fine people and they more than met the challenge.
Sara Marie
★★★★★ Google Review
My mom was here in January for 2 weeks. I loved all the nurses and doctors who were there to help, especially Valerie. She took her time & explained everything she was doing to my mom and the family.
Billie H.
★★★★★ Yelp Review
I cannot say enough to express my sincere gratitude to the Hospice Of The Valley Surprise location and especially our nurse Matt. Also the admitting process was exceptionally smooth thanks to Angel...yes Angel! All the staff were so warm and caring making a difficult decision one that I will never regret. My friend passed in a mere 9 hours with comfort and dignity. I will be forever grateful