Great nurses prove compassion is just the right Rx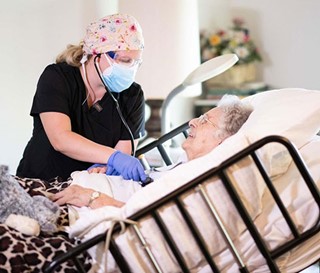 Hospice of the Valley nurse Bessie Medigovic brightens a patient's day with her home visits. "We are the ears and eyes for the doctors," she said.
City Sun Times
April 25, 2021
by Lin Sue Cooney
When nurse Gina Day showed up at Golden Heritage Assisted Living in Scottsdale to care for Joan Cullen, she noticed right away that her sweet patient's hair had been set and styled for a special occasion: her 91st birthday party. Her immediate response was to tell Joan how pretty she looked.
That's because Gina checks her patient's disposition as closely as her blood pressure. Nurses do so much more than care for physical symptoms. The truly remarkable ones know how to nurture people's hearts too. For Gina and other Hospice of the Valley nurses, lifting patients' spirits is an essential part of providing compassionate care.
"It's a very sacred time of life to be with a family and a patient," Gina said. "We want our patients to have quality — quality of life. We really make that happen so that they're going to have the best experience that they can possibly have."
National Nurses Week, May 6­–12, gives us an opportunity to thank these healthcare heroes for their incredible skill, tenderness and resilience. Throughout this pandemic, Hospice of the Valley nurses also have played a critical role in bringing families together in our inpatient care homes, so that loved ones could safely be at the bedside to share precious moments.
"I love being a nurse because you get to share people's lives," Moriah Colon said. "I've had patients who were fighter pilots in World War II, surgeons, ballerinas and all kinds of wonderful individuals. To have a connection with them and be a part of their story is amazing. It's very meaningful to be able to provide this service and really touch lives this deeply."
It's what drew nurse Patrick Murage to hospice care.
"This job is not an 8 to 5 job that you punch in and out. It's a call that you answer every day," he said. "I think the biggest part is knowing that I helped somebody today. That's what makes me wake up and come to work."
In many ways, nurse Bessie Medigovic explained, "We are the eyes and ears for the doctors. At the end, our visits increase because patients need more support. With each encounter, I try to take in what's important to each family."
When nurse Kim Werton's patient needed help with a bed bug treatment in his apartment, she and her team packed and washed 11 bags of his clothes and linens at a laundromat while he stayed at one of our inpatient care homes.
And perhaps the most touching moment of Matt Hughens' career had nothing to do with what he learned in his practical nursing program.
"My patient's son was singing and playing for his dad. He asked if I played and when I said yes, he handed me his guitar. As soon as I strummed 'You've Got a Friend,' the room became silent. I noticed tears falling. When I finished, the son said, 'You don't know what you have done!' Turns out his father was a music composer who loved James Taylor, and this song was the last one sitting on his dad's piano stand at home," Matt recalled.
The next evening, he returned with his own guitar and played gospel songs at the family's request. The patient died peacefully as Matt sang "Amazing Grace."
Nurses may never know how deeply they impact people's lives because how can we possibly measure the value of comfort and compassion? But it definitely is more of a calling than a job. As James Taylor might say…Winter, spring, summer or fall — all you have to do is call.
---
Nurses who want to bring comfort, dignity and compassionate care to our community are invited to apply at hov.org/careers. Home care, inpatient, admissions and telephone triage positions are available, along with flexible schedules, educational opportunities, excellent pay and benefits.