Hospice of the Valley receives Grief Reach Grant from The New York Life Foundation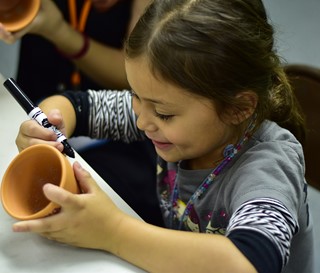 Hospice of the Valley announced today a $100,000, two-year Grief Reach grant from the New York Life Foundation to provide grief support to children and families in central Arizona.
The not-for-profit hospice will partner with fellow pediatric care providers Phoenix Children's Hospital and Ryan House to expand their current collaborative services.
Grief support services provided by the organizations will help children and families before, during and after a child's death. Currently, few programs are available to families grieving prior to a child's death. The grant also will pay for additional services to children from low-income and minority families, particularly Hispanics, who are served by the three organizations.
"We are grateful for the New York Life Foundation's investment in these programs, which will help us serve many more families in need," said Debbie Shumway, executive director of Hospice of the Valley. "The support will help grieving children and their families in our community to begin the healing process."
The New York Life Foundation created the Grief Reach program to help providers overcome barriers to bringing grief support services to youth not served by existing bereavement programs. One of the leading funders of childhood bereavement support, the foundation has invested more than $35 million to date in support of grieving children and their families.
Hospice of the Valley's New Song Center for Grieving Children will take the lead in coordination with Phoenix Children's Hospital and Ryan House. Hospice of the Valley is a partner of Ryan House, which offers respite, palliative and hospice care for children with life-limiting conditions.
Grief support services will include:
One-on-one counseling, including bilingual/bicultural counseling.
"Sib-Shops" – workshops led by certified child-life specialists, bereavement professional staff and volunteers will be provided on a quarterly basis for siblings of children with life-limiting or medically fragile conditions.
Bereavement phone support provided by professional staff and trained volunteers.
Peer-to-peer grief support groups for siblings, parents and grandparents.
A support group for families experiencing perinatal loss to help surviving siblings and parents cope with unique issues surrounding the loss of a baby before or shortly after birth.
Grief education and support materials on child death, including bilingual/bicultural materials for Spanish-speaking families.
Quarterly community bereavement events.
About New York Life Foundation
Inspired by New York Life's tradition of service and humanity, the New York Life Foundation has, since its founding in 1979, provided more than $250 million in charitable contributions to national and local nonprofit organizations. The Foundation supports programs that benefit young people, particularly in the areas of educational enhancement and childhood bereavement. The Foundation also encourages and facilitates the community involvement of employees, agents, and retirees of New York Life through its Volunteers for Good program. To learn more, please visit newyorklifefoundation.com.
About the grant partners
Founded in 1977, Hospice of the Valley provides end-of-life care to adults, children and their families in central Arizona, serving 18,500 patients annually. The pediatric palliative and hospice care program is the only one of its kind in Arizona. New Song Center for Grieving Children is the oldest and largest child grief support program in Maricopa County. hov.org
Phoenix Children's Hospital is Arizona's only children's hospital recognized by U.S. News & World Report's Best Children's Hospitals with rankings in all ten specialties. Phoenix Children's provides world-class inpatient, outpatient, trauma, emergency and urgent care to children and families in Arizona and throughout the Southwest. As one of the largest children's hospitals in the country, Phoenix Children's provides care across more than 75 pediatric specialties. The hospital is poised for continued growth in quality patient care, research and medical education. phoenixchildrens.org
Ryan House, founded in 2010, is the only free-standing facility of its kind in the Southwest and one of just three in the nation providing pediatric palliative and respite care. More than 225 children and their families are served annually. ryanhouse.org