A
safe

haven

Gardiner Home helps families struggling to care for a loved one with dementia. Nestled in a quiet neighborhood in north central Phoenix, this sprawling ranch house is a peaceful place. Patients feel at home, enveloped by the comforting aroma of homemade soup and fresh baked cookies. Weary caregivers are supported, educated and given respite from unrelenting stress.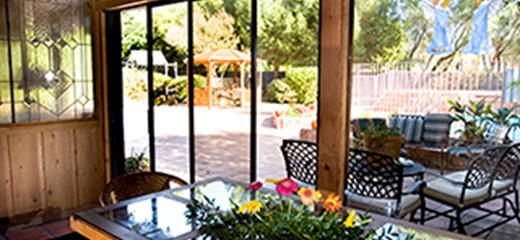 The only palliative care and hospice home nationwide that nurtures patients with memory loss.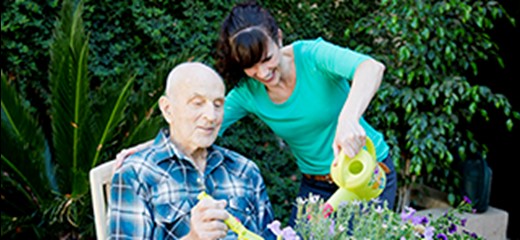 Our soft touch helps patients with all stages of dementia feel safe. We enjoy nature and music. We soothe with massage and gentle therapy dogs.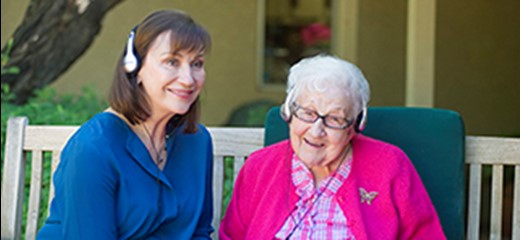 Our specialists manage difficult behaviors. We use I-pods to play familiar songs. We lovingly tend to those nearing end of life.
Phoenix Symphony musicians entertain patients at Gardiner Home
"Music is the soul of language." When dementia clouds a person's ability to communicate, music makes a connection. Watch souls stir in this video of Phoenix Symphony musicians playing for dementia patients at Hospice of the Valley's Gardiner Home. Musicians visit once a month, thanks to a donation from Hospice of the Valley volunteer John Radway, who cared for his wife Claire through a decade of dementia until her death. The Radways loved classical music—and so do our patients!
The Healing Power of Music
By partnering with talented musicians at the Phoenix Symphony, we are able to bring some moments of joy to our patients living with dementia as they remember favorite songs from their past. Watch as they are swept away by sweet melodies during a concert at Gardiner Home, our inpatient care home specializing in dementia care and education.
Have questions about our inpatient services?  Give us a call 24/7 and we'll be happy to help.  
Call now: (602) 995-9323.
1522 W. Myrtle Ave., Phoenix, AZ 85021
Cynthia Z.
★★★★★ Yelp Review
My 93 year old mother recently broke her hip and femur, which unfortunately lead to a pretty swift decline for her. Dr. Skinner, the nurses, the CNAs and all the team at the Gardiner Home treated her and our family with care, respect and incredible patience and kindness. We worked with everyone there to ensure that my mother's pain was managed and that her stay, for however long, would be comfortable.  

We had many questions, we were unsure of what to expect and we were allowed to spend almost a week, day and night with my mom in a private setting. Dr. Skinner was incredibly responsive to us throughout our stay, in person and by phone and the on-site team's warmth and compassion is beyond compare.

A special shout out to Lourdes, the Maureens, Evelyn, Denae, Todd, Isabela, Tyrena, Kim, and Baldra. We were privileged and are grateful to have had the grace of the care provided here. Thank you all from the bottom of my heart.
Thomas Jay Henderson
★★★★★ Google Review
Awesome site. Compassionate and caring staff. High level of care. Plenty of time for family. If you have a chance to get your declining loved one into this place, jump on it! Comfort and peace reign inside their walls. What family doesn't need that during such times!
Suzi O.
★★★★★ Yelp Review
My mother was transferred to Gardiner Home by her amazing hospice nurse Anna! We will be forever grateful to the staff at Gardiner home for their loving care and kindness. Michelle and Bessie offered emotional support and guidance. Barda not only prepared amazing meals, she offered love and kindness and strong words of support! Evelyn, Maureen and Denae were amazing caregivers who were patient living and kind with my mother. Her nurses Maureen, Isabelle Kim, and especially Lourdes were knowledgeable, attentive and loving offering us not only skilled cate but such a loving and honoring approach! We appreciated every staff member we  dealt with and want them all to know how grateful we are!