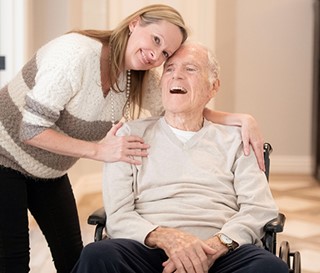 Hospice of the Valley social worker Joy Martin enjoys her visits with patient John Tracey.
Partnering
with the Community
Hospice of the Valley is excited to offer community social workers a one-of-a-kind opportunity to experience the vital contribution social workers make for patients living with chronic and terminal illness and their families. 
We invite you to apply for the Hospice and Palliative Care Social Work Fellowship, set for Oct. 1-2, 2020, at Hospice of the Valley, Arizona's leading provider of hospice and palliative care. 
Those accepted into this fellowship will spend two days walking the walk with patients on hospice or palliative care and the interdisciplinary teams that serve them.  The two days will consist of a didactic orientation to hospice and palliative care, along with opportunities to shadow home visits and hospice inpatient units with a Hospice of the Valley social worker. We conclude with an engaging session designed to explore, share and integrate the hospice experience into practice.  Contact hours and a certificate of completion will be awarded at the end of the two-day fellowship.
---
This fellowship has been rescheduled for Spring 2021.
If you are interested in participating in the 2021 Fellowship, please email crednour@hov.org.
---
Social work fellows share their experience
"I will be able to speak more knowledgably to my patients about the benefits of hospice care…and the process to access hospice services."
"This experience was a great example of what teamwork can do to improve quality patient care.  I will take this teamwork concept back to our social workers and medical staff."
"The best thing about the fellowship was the experience of being with the hospice social workers and getting a better understanding of challenges, skill set and 'rhythm' of their work."