Nurse Call Line: Your Health Connection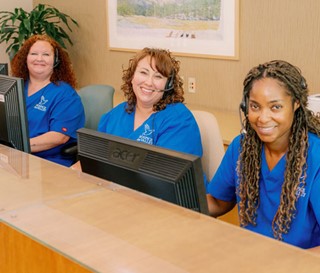 Your
 

call center partner

, caring for patients together.

Nurse Call Line: Your Health Connection is a full-service call center that customizes care according to healthcare providers' practices and preferences. Calls are handled by licensed registered nurses who work for Hospice of the Valley, a nationally respected not-for-profit provider of hospice and palliative care, founded in 1977.

Patients are always greeted by a warm, caring voice—not an automated system. Our nurses have expertise in gathering the information needed to determine the best way to help the patient get the appropriate level of care.

That may involve contacting the patient's physician or on-call group immediately; performing a medication reconciliation, answering pain and symptom management questions, reiterating discharge plans of care, connecting the patient with the respective outpatient services, setting up a "virtual" physician visit; or for non-urgent needs, arranging for follow-up appointments with their community provider.

Goals of this program are to support the patient and their families/caregivers, reinforce discharge plans if recent hospitalization and prevent unnecessary hospitalizations.

We utilize state-of-the-art technology to ensure prompt and reliable communication that complies with patient privacy laws.
Experienced
Calls answered by experienced team members
Families greeted by a calm, friendly, confident voice­
Average tenure of team members exceeds 11 years
Exceptional
Clinical team member stays with callers to ensure needs are met
Nurses available to provide immediate support
Bilingual staff on duty around the clock
Respect for religious, cultural and personal differences
We provide customized and individualized plans, and documentation of all calls and responses. Physicians or healthcare entity determine the triage protocol:
Contact patient's primary care provider for urgent needs.
Message provider's office for non-urgent issues.
Utilize the health information exchange or hospital records to coordinate care.