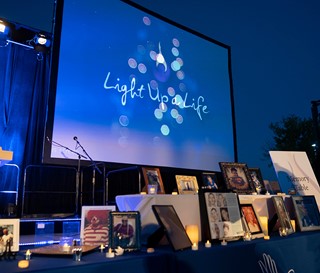 Light Up a Life reminds us: 
Love is forever
A year ago, Jennifer Williams' world fell apart when her 9-year-old granddaughter succumbed to a rare type of cancer. But at her first Light Up a Light, Jennifer felt ready to celebrate — not mourn — the precious girl who "always believed in the magic of unicorns."
That sentiment was echoed by countless families at Hospital of the Valley's 2019 community remembrance event Nov. 24 at Steele Indian School Park in Phoenix. About 1,800 people gathered on the park's grassy amphitheater for a moving photographic tribute to their loved ones and a powerful performance by Valley Youth Theatre's ultra-talented VYTeens.
"As we come together tonight, my hope is that your heart is filled with beautiful memories and lots of love, and that your holidays are filled with so many blessings," HOV Executive Director Debbie Shumway told the record crowd. "We thank you for the privilege of being able to care for your loved one — and for you — during this very important chapter in your life."
More than 900 photos were submitted for the montage projected on two giant screens. For Jacinda and Perry Beasley, who lost their 59-day-old baby, Malachi, in 2013, Light Up a Life has become an essential holiday season ritual for the whole family. They bring 9-year-old Naomi and 4-year-old Joseph "to keep their brother's memory alive and to celebrate the life that he had," Jacinda said.
Teresa Mata couldn't hold back her tears as she honored her mom, Teresa Kelley, who died nearly two years ago. As emotional as the evening was, it's a "very helpful part of healing," said Mata's husband, Chris. The couple recently lost their dog, Kobe, so for this year's montage, they chose a photo of Mom with their beloved Akita. "It brings back a lot of good memories," he said.   
Earlier in the day, more than 200 people gathered at the park for craft activities hosted by New Song Center for Grieving Children with Ryan House and Phoenix Children's Hospital. Then they formed a large circle to light a candle for all those who died "too young, too soon," each parent reading one name at a time — but in one family's case, two names.
Katherine McKitrick lost two babies shortly after birth — Elijah would be 4 years old now and Pennee would be 5. New Song helped the family pick up the pieces and supported them through the birth of a healthy child two years ago. The McKitricks brought their five children to the event, where they made colorful paper heart wreaths and wrote their favorite memories of the two babies. "We come every year," Katherine said. "They help us process our feelings."
Many families expressed appreciation that HOV continues to care about them year after year.  Whether they were remembering a child, parent, sibling or friend, everyone shared the same truth — love is forever.